Web Marketing For Dummies, 2nd Edition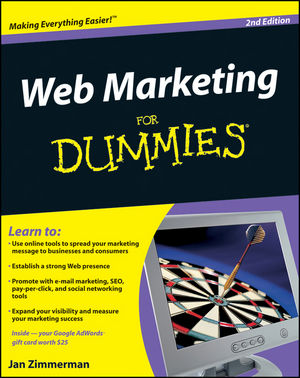 Web Marketing For Dummies, 2nd Edition
ISBN: 978-0-470-37181-7
Dec 2008
432 pages
Product not available for purchase
Description
By implementing effective Web marketing strategies, you can quickly build a successful Web site and business. But how do you take on search engine optimization and search engine marketing to achieve the results you want? Web Marketing For Dummies, 2nd Edition shows you how! This guide helps you apply your marketing knowledge to the Web world, taking you on the path to online marketing success.

In this book you'll find out how to use online tools to spread your marketing message; establish a strong Web presence; promote your site with e-mail marketing, search engine optimization, pay-per-click, and social networking tools; and measure your marketing success. You'll also discover how to:
Craft an online marketing plan, set site goals, and define your market
Uncover what makes an effective online storefront and what your site must offer to encourage shoppers
Use e-mail marketing effectively and spread the word via e-newsletters
Safeguard copyrights, link legally, and use disclaimers, terms of use, and privacy policies
Entice customers with video blogs, Webcasts and podcasts, or widgets and gadgets on your site
Track site activity with Web analytics, interpret sales statistics, and determine where problems originate
Take advantage of search engines where you can submit your site for free
Encourage visitors to come back and find subscribers for your online newsletter
Utilizing the right online marketing strategies can dramatically boost the success of your Web site and build your business. Web Marketing For Dummies, 2nd Edition makes it easy!
Introduction.
Part I: Getting Going with Online Marketing.
Chapter 1: Taking Your Marketing to the Web.
Chapter 2: Planning for Web Marketing.
Chapter 3: Taking the First Steps to Your Online Presence.
Part II: Building a Marketing-Effective Web Site.
Chapter 4: Producing a Successful Business Web Site.
Chapter 5: Creating a Marketing-Effective Storefront.
Chapter 6: Pulling Repeat Visitors with Onsite Marketing Techniques.
Part III: Exploring Online Marketing Basics.
Chapter 7: Mastering the Secrets of Search Engines.
Chapter 8: Marketing with Online Buzz.
Chapter 9: The Art of E-Mail Marketing.
Chapter 10: Expanding Your Web Presence.
Part IV: Spending Online Marketing Dollars.
Chapter 11: Marketing with Pay Per Click Ads.
Chapter 12: Marketing with Paid Online Advertising.
Chapter 13: Capturing Customers with New Technology.
Part V: Maximizing Your Web Success.
Chapter 14: Improving Results with Web Analytics.
Chapter 15: Staying Out of Legal Trouble.
Chapter 16: The Keys to Maintaining Your Web Presence.
Part VI: The Part of Tens.
Chapter 17: Ten Free Ways to Market Your Web Site.
Chapter 18: The Ten Most Common Mistakes of Web Marketing.
Chapter 19: Ten Tips for Tired Sites.
Index.
| | |
| --- | --- |
| Figure 2-1 Web Site Planning Form | Download |
| Figure 2-5 Web Marketing Methods Checklist | Download |
| Figure 2-6 Web Marketing Spreadsheet | Download |
| Figure 4-1 Web Site Assessment Form | Download |
| Storefront Checklist.pdf | Download |
| Web Developer Capability Questionnaire | Download |
| Web Developer Reference Questionnaire | Download |
| Web Marketing Information Summary | Download |