Web Marketing For Dummies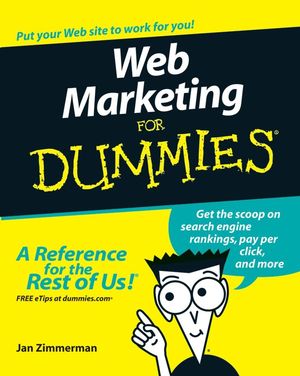 Description
Just because you're launching a Web site for your product or service doesn't automatically mean you'll rake in big money. Billions of Web sites are competing for consumers' attention, and if you're new to online sales, it may be a little daunting.

Web Marketing for Dummies provides the know-how for creating a solid Web marketing plan, from building a user-friendly site that draws attention to closing a sale on your site. This easily accessible guide leverages your offline knowledge of marketing into mastery of the Web. It shows you a number of strategies that you can apply to your business and how to put your site to work for you. The items you'll draw from this book will enable you to:
Understand online marketing essentials
Prepare an online business plan
Design the look and feel of your site
Create a concept, develop content, and make it accessible
Know the key components of an online store
Use buzzing, e-mailing, and other advertising tactics
Make your site search engine friendly
Handle Web transactions with ease
Stay out of legal trouble
Wow customers with new technology
This guide also features free ways to market your site, as well as ways to revamp tired sites. In addition, there is also a list of common mistakes that are easy to make, but also easy to avoid. With Web Marketing for Dummies, you'll be claiming your space in the online marketplace and maximizing your marketing dollars in no time!
Introduction.
Part I: Getting Going with Online Marketing.
Chapter 1: Taking Your Marketing to the Web.
Chapter 2: Planning for Web Marketing.
Chapter 3: Taking the First Steps to Your Online Presence.
Part II: Building a Marketing-Effective Web Site.
Chapter 4: Producing a Successful Business Web Site.
Chapter 5: Creating a Marketing-Effective Storefront.
Chapter 6: Pulling Repeat Visitors with Onsite Marketing Techniques.
Part III: Exploring Online Marketing Basics.
Chapter 7: Marketing with Online Buzz.
Chapter 8: The Art of E-Mail Marketing.
Chapter 9: Staying Ahead of the Online Marketing Wave.
Chapter 10: Mastering the Secrets of Search Engines.
Part IV: Spending Online Marketing Dollars.
Chapter 11: Marketing with Pay Per Click Ads.
Chapter 12: Marketing with Paid Online Advertising.
Chapter 13: Capturing Customers with New Technology.
Part V: Maximizing Your Web Success.
Chapter 14: Improving Results with Web Analytics.
Chapter 15: Staying Out of Legal Trouble.
Chapter 16: The Keys to Maintaining Your Web Presence.
Part VI: The Part of Tens.
Chapter 17: Ten Free Ways to Market Your Web Site.
Chapter 18: Ten Most Common Mistakes of Web Marketing.
Chapter 19: Ten Tips for Tired Sites.
Index.
Figure 2-1 Web Site Planning Form


Download and print out any of the PDF or Excel files below, especially Figure 2-5. Fill in these forms, which appear in the book, with data for your own business. PDF files require Adobe Reader, which you can download by clicking on the link below.

Download
Figure 2-5 Web Marketing Methods Checklist

Download
Figure 2-6 Web Planning Spreadsheet

Download
Figure 4-1 Web Site Assessment Form

Download
Marketing Summary Information

Download
Web Developer Questionnaire

Download
Web Developer Reference Check Form

Download
Storefront Checklist

Download
Quick Links to Valuable Resource Sites
Market Research Resources
ClickZ Network
Marketing stats, resources, articles, news, and more for marketers
Internet.com
Online news, statistics and lists of resource providers
MarketingProfs
Marketing techniques, tools, and tips for and by marketing professionals
MarketingSherpa
Practical news and case studies on Internet advertising, marketing and PR
University of Delaware Online Learning Program
E-commerce and marketing dictionary of terms
Wayback Machine
Archive of the Internet over time
Web Marketing Today
E-commerce, e-mail and web marketing information for small businesses, newsletter
Web Content & Design Resources
Jakob Nielsen's UseIt.com
Principles of Web usability and design
Microsoft Usability Guidelines
Improving Web site usability and appeal
Web Pages That Suck
Learn usability and good Web design by looking at bad Web design
Web Style Guide, 2nd edition
Basic design principles for creating Web sites
WebXACT
free online service tests single Web pages for quality, accessibility, and privacy
Worst of the Web
Laugh and learn from the mistakes of others
Writing for the Web (Jakob Nielsen)
Research on how users read online and how to write Web pages
Yahoo! Directory
Directory of articles on Web design and usability
Retailing Resources
ClickZ-Retailing
Statistics about online retailing
c|Net Download
E-commerce software reviews and downloads
Direct Marketing Association
Guidelines for setting shipping and handling charges
eCommerce Times
E-commerce news and trends
e-tailing group
Research on e-tailing trends and merchant surveys
Internet Retailer
Strategies and news for multi-channel retailers
MarketingProfs.com
What Web developers can learn from retailers
PC Magazine
E-commerce software reviews and ratings
Practical eCommerce
Shopping cart checklist, e-zine and print magazine (fee) for e-commerce
Shop.org
Association for retailers online, part of the National Retail Federation
Shopping Cart Index
Shopping cart software reviews and selection
Top Ten Reviews
E-commerce software reviews
Top Ten Reviews
Shopping cart reviews
Award Site Resources
Future Marketing Awards
Celebrates wide range of non-traditional marketing and advertising techniques
Interactive Media Awards
Outstanding achievement in Web design and development
Internet Advertising Competition
Honors excellence in online advertising
Web Marketing Association's Web Award
Recognizes best Web sites in 96 industries
Webby Awards
Honors Web sites, interactive advertising, online film & video, and mobile content
Word of Mouth Marketing Association
Best viral and buzz advertising from around the world
Inbound Link Resources
Alexa
Link checker, list of related sites, and traffic assessment
Arelis
Link finding and management software (fee)
ClickZ Network
Tips on link campaigns
Link Popularity
Link checker for Google, MSN and Yahoo
Marketleap
Link checker for multiple engines
NewsLink
List of meta-indexes
Webmaster Toolkit
Link checker for multiple engines
WebWorkshop
Tips on link campaigns
Newsletter Resources
About.com
Articles about e-mail marketing techniques and resources
Direct Marketing Association
E-mail news and resources
EmailLabs
E-mail marketing resources
eROI
Trend analysis, e-mail resources
Federal Trade Commission
The CAN-SPAM Act requirements for commercial e-mailers
Tile.net
Reference guide to e-mail newsletters and discussion lists
International Resources
American Translators Association
Online directory of translation and interpreting services
BabelFish
Free translation site
Direct Marketing Association
Directory of international marketing resources
Global Reach
Statistics on international use by language
Multilingual Search
Forum and news on multilingual search engines
SEO Chat
SEO for multilingual sites
Small Business Administration Office of International Trade
Export assistance for small businesses
U.S. Department of Commerce/U.S. Commercial Service
Government resources for international sales and exports
Affiliate & Loyalty Program Resources
About.com
Articles on affiliate marketing
About.com
Choosing the right loyalty program
AffiliateGuide
Affiliate program directory and blogs
Affiliate Programs Directory
Affiliate program announcement, newsletter list, and resources
CIO Insight
Article on trends in loyalty programs
eBay
Best practices for eBay affiliates, useful for other affiliate programs as well
HowStuffWorks
Article explaining affiliate program operations and options
Internet Retailer
Affiliate marketing survey
Search Engine Resources
Alexa.com
Web search, traffic rankings and Web directory
AllSearchEngines.com
Search engine directory
Overture (now Yahoo! Search Marketing)
Keyword selector tool
Pandia Search Central
Directory of specialized search engines, newsletters, and optimization tips
Refdesk.com
Search engine directory by type and service
Search Engine Guide
Search engine articles, blog
SearchEngineWatch (ClickZ)
Articles, tutorials, forums, blogs, SEO articles and tips
SEO Company
156 SEO tools for site optimization
SiteProNews
Essential tools for online marketers
WebPosition
Search engine tips, software for submission and results reports (fee)
Wordtracker
Keyword suggestion tool
Pay-Per-Click Resources
Miva Small Business Resources
Multiple articles on paid search advertising
Pandia Online Shopping Directory
List of shopping search engines and online malls
Pay Per Click Search Engines
Directory and reviews of PPC engines, newsletter, e-course
Pay Per Click Universe
Review of top 10 PPC search engines
PPC Calc.com
Pay-per-click ROI calculator, statistics, resources
SearchEnginesDir.com
Directory of shopping search engines
Search Engine Guide
Article about PPC advertising management
SEOmoz.org
Article on advanced PPC strategies
Yahoo!
Statistics on PPC
Online Advertising Resources
Adotas
Rating of ad networks
DoubleClick
Best practices for optimizing online advertising effectiveness (download)
iMedia Connection
Articles, resources for online advertising
Internet Advertising Bureau
Industry trade association, resources, standards for ad sizes
Online Advertising Discussion list
Online advertising discussion group
Web Marketing Association
Association to improve Internet advertising and marketing, contests, resources
Web Marketing Today
Articles about online classified advertising, links to classified directories
WebReference.com
List of advertising networks
Web Analytics Resources
ClickZ Network
Articles about analyzing customer data
Emetrics.org
Articles, conferences, and resources on e-metrics
Google Analytics
Web analytics tips from Google Analytics' companion site
O'Reilly XML.com
Resources on analytics
Web Analytics Association
Association of Web analytics professionals
Web Analytics Demystified
Resources, links and worksheets
WebTrends
Library of Web analytics and marketing performance research, newsletter
Legal & Privacy Resources
Electronic Frontier Foundation
Not-for-profit organization defending free speech, privacy, and consumer rights online
Electronic Privacy Information Center
Public interest research center, newsletter
Federal Trade Commission
Federal requirements for privacy protection online
FindLaw
Legal and business information for doing business online, includes checklists
Privacy.org
Daily news, information, and initiatives on privacy
W3C Platform for Privacy Preferences Project
Standardized international privacy practices
Other Online Business News Resources
B2B Marketing Trends
B2B marketing trends for professionals
B2B Online
Magazine, webcasts, newsletter, daily news, RSS feed for B2B marketing strategies
Wired Magazine
Technology news magazine, blogs