Webcam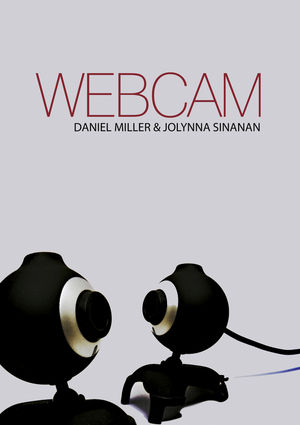 Webcam
ISBN: 978-0-745-67147-5 March 2014 Polity 220 Pages
Description
The use of webcam, especially through Skype, has recently become established as one more standard media technology, but so far there has been no attempt to assess its fundamental nature and consequences. Yet webcam has profound implications for many facets of human life, from self-consciousness and intimacy to the sustaining of long-distance relationships and the place of the visual within social communications.

Based on research in London and Trinidad, this book shows how 'always-on' webcam is becoming an entirely different phenomenon from the initial use of webcam as a videophone. Webcam is examined within the framework of 'polymedia' - that is, the new environments created by the simultaneous presence of a multiplicity of communication technologies - and used to exemplify a theory of attainment that accepts media technologies as aspects of, rather than detracting from, our basic humanity.
Acknowledgements vi
1 Conclusion: A Theory of Attainment 1
2 Self-Consciousness 24
3 Intimacy 48
4 The Sense of Place 82
5 Maintaining Relationships 110
6 Polymedia 135
7 Visibility 162
References 192
Index 201
''Some of the most interesting uses of new technologies silently slip into our consciousness and become deeply integrated with our everyday lives. Miller and Sinanan help us to understand how our everyday existence is affected by online video conversations in ways that are unexpected and intriguing. Long anticipated by science fiction, video conversation looks much less like a simple update to the phone call we might have expected, and much more varied.''
Alexander Halavais, Arizona State University
'My grandmother used to shout into the phone to make sure she was heard across the country. Now, grandmothers and babies enjoy each other on webcams. This fascinating book shows how far-flung people use Skype to maintain and extend their networks. Friends become like kin; kin become like friends.''
Barry Wellman, NetLab Director and co-author, Networked

"In the accessible and engaging style that we have come to expect from Miller's publications, Webcam explores the socio-cultural effects of the webcam from an anthropological perspective. That said, this book will appeal to scholars from much of the social sciences and beyond, for its contents and core arguments pose important questions for what it means to be human, and connect with others in an age of instant global communication."
Michael Duggan, Royal Holloway University of London
The first book to explore the social meaning of the 'always on' webcam and the role it has come to play in our lives.
Using case studies from the UK and Trinidad and Tobago, the authors examine how webcams have become an integral part of people's everyday life.
Written by one of the world's leading anthropologists, well known for his work on material culture, and an emerging expert in online communication.
This book continues the development of Miller's distinctive anthropology of the internet and new media, advancing the approach he pioneered in Tales from Facebook and other works.