Weber: A Short Introduction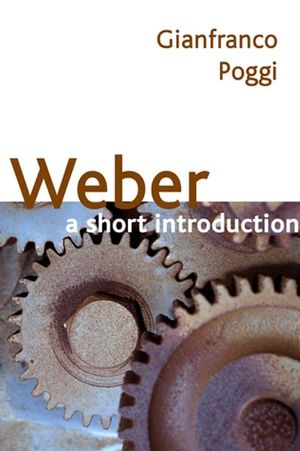 Weber: A Short Introduction
ISBN: 978-0-745-63490-6 March 2006 Polity 152 Pages
Description
In this short and accessible introductory text, Gianfrano Poggi offers a masterly account of the most important themes in Webers writings. Assuming no previous knowledge of Webers work, the book focuses on his conception of sociology, social process, religion, and the genesis and nature of the modern state.
This is Poggi at his very best. His account is authorative, but unpretentious, intellectually sophisticated, but still highly readable. As such, this highly perceptive book is bound to become an indispensable guide to Webers key ideas, suitable for use by anyone requiring a concise and yet scholarly introduction to Webers work, whether at undergraduate or postgraduate level.
Table of contents
Preface vii
1 The Man and His Work 1
2 Questions of Method 17
3 Weber's Conception of the Socio-Historical Process 36
4 The Protestant Ethic and the Spirit of Capitalism 59
5 Other Essays in the Sociology of Religion 75
6 Political Power and Legitimacy 89
7 The State and Bureaucracy 105
Select Bibliography 127
Index 131
Reviews
"Among hundreds of books that treat Weber, Poggi's is the best brief treatment. It is compact, precise, elegantly composed, yet manages to hit all the vital highspots with authority and clarity. Any eager student who reads this book will have been escorted through the rocky terrain of Weber's works by a veteran teacher, and a fine scholar whose sense of Weber's achievement is exact and illuminating."
Alan Sica, Professor of Sociology, Pennsylvania State University

"With this book, the reader gets two in one. It is one of the best introductions into Max Weber's sociology and social theory. It is at the height of current Weber interpretation, but at the same time it is clear and concise and avoids all jargon. And it is vintage Poggi, bearing the mark of great erudition and speaking with an authoritative voice on central issues of the sociological tradition that current sociology sometimes forgets: the analysis of long-term social processes; the relation between civilization, religion and the economy; and the legitimacy of the modern state."

Peter Wagner, Professor of Social and Political Theory, European University Institute, Florence, and Professor of Sociology, University of Warwick