Webster's New WorldTM Student Writing Handbook, 5th Edition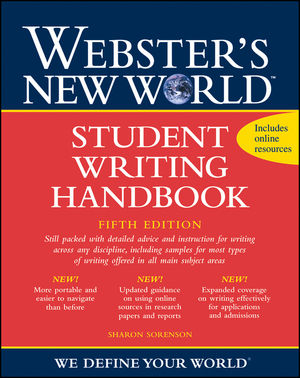 Webster's New WorldTM Student Writing Handbook, 5th Edition
ISBN: 978-0-470-43539-7
Dec 2009
480 pages
Product not available for purchase
Description
Now more portable and easier to navigate!
Webster's New World Student Writing Handbook, Fifth Edition has been refreshed and updated to give you a more portable and efficient reference for all of your high school and college writing needs!
From essays to feature articles, from book reports to scripts, you'll get coverage of all thirty-seven types of student writing, good writing principles, subject-specific writing samples, and important considerations for writing and the Internet. You'll enjoy updated coverage and improvements including:
All-new sections on term papers

A sleek interior design that makes content easier to navigate

Brand-new coverage of specific considerations when writing for various subjects, including English, social sciences, science, business, and technical subjects

Expanded content on job applications, college application essays, special program admission essays, and scholarship essays

A companion Web site features concrete examples of the topics covered in each core subject area
Acclaimed by fellow students, educators, and parents, Webster's New World Student Writing Handbook is your one-stop reference for writing top-quality essays, term papers, and reports—on any school subject.
Introduction.
PART I: BASICS OF GOOD WRITING.
Chapter 1: Prewriting.
Chapter 2: Writing.
Chapter 3: Revising.
Chapter 4: Proofreading.
PART II: METHODS OF DEVELOPMENT.
Chapter 5: Analogy.
Chapter 6: Cause and Effect.
Chapter 7: Classification.
Chapter 8: Comparison and Contrast.
Chapter 9: Defi nition.
Chapter 10: Description.
Chapter 11: Narration.
Chapter 12: Opinion.
Chapter 13: Persuasion.
Chapter 14: Process Analysis.
PART III: TYPES OF WRITING.
Chapter 15: Analysis.
Chapter 16: Applications.
Chapter 17: Autobiographical Sketch.
Chapter 18: Biographical Sketch.
Chapter 19: Book Report.
Chapter 20: Character Sketch.
Chapter 21: Classifi ed Ad.
Chapter 22: Dialogue.
Chapter 23: E-Mail.
Chapter 24: Essay Test Responses.
Chapter 25: Feature Article.
Chapter 26: Letters.
Chapter 27: Literary Analyses.
Chapter 28: Memorandum.
Chapter 29: Minutes of a Meeting.
Chapter 30: News Article.
Chapter 31: Outlines.
Chapter 32: Paraphrase.
Chapter 33: Précis.
Chapter 34: Research Paper.
Chapter 35: Resume.
Chapter 36: Review.
Chapter 37: Scripts.
Chapter 38: Short Answers.
Chapter 39: Synopsis.
Chapter 40: Technical Report.
Chapter 41: Term Paper.
PART IV: GRAMMAR, USAGE, AND MECHANICS.
Chapter 42: Classifi cation of Words.
Chapter 43: Usage.
Chapter 44: Phrases and Clauses.
Chapter 45: Punctuation.
Glossary.
Index.