Webster's New World French Dictionary: French / English English / French, 2nd Edition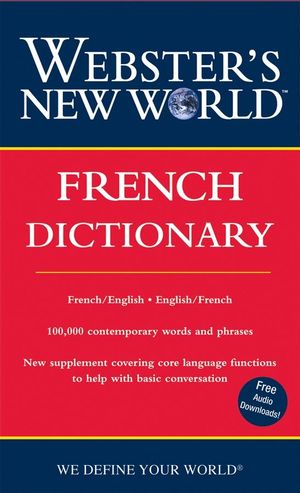 Webster's New World French Dictionary: French / English English / French, 2nd Edition
ISBN: 978-0-470-17826-3
May 2008
880 pages
Product not available for purchase
Description
A COMPACT AND EASY-TO-USE DICTIONARY FOR STUDY OR TRAVEL.
Whether you're traveling, studying, or just need a reliable reference, Webster's New World French DIctionary offers the most practical, up-to-date content. Fully revised, it features:
70,000 references and 100,000 translations
Free audio downloads with pronunciations for twenty-five key verbs
Updated content that reflects today's vocabulary and usage
A guide covering basic language functions to help with everyday conversation
A readable design that is both contemporary and familiar
Preface.
Structure of Entries.
Préface.
Structure des Entrées.
Abbreviations.
Abréviations.
French Pronunciation.
Prononciations de l'anglais.
English- French Dictionary.
Dictionnaire Anglais-Francais. 
French Verb Conjugations.
Irregular French Verbs.
French Conversation Guide.
Dictionnaire Francais-Anglais.
French-English Dictionary.