Wedding Kit For Dummies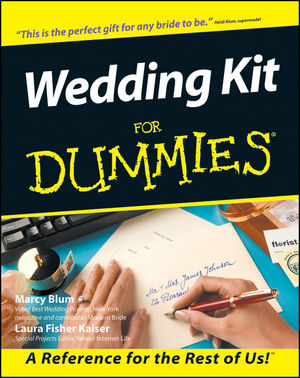 Wedding Kit For Dummies
ISBN: 978-1-118-06931-8
May 2011
384 pages
Description
You finally said "yes!" and decided to throw in your lot with Mr. Right. But before you can embark on your new lives together there's the little detail of your wedding. Handled correctly, it can be what it should be—the most wonderful day of your life. With Wedding Kit For Dummies in your corner, you can guarantee that your wedding celebration is everything you always dreamed it would be.

Whether you're planning an intimate affair, a huge event, or something in-between, this book/CD package arms you with checklists, templates, worksheets and other useful tools to help you manage all the details. And you get expert tips and advice on, among other things, how to:
Select the perfect venue
Track your guest list and RSVPs
Choosing the food and flowers
Finding a good photographer
Negotiate rates with caterers and musicians
Nail down the wedding-day agenda
Outfit your wedding p arty
Plan a destination wedding
Marcy Blum has created magical weddings for hundreds of couples. Now in Wedding Kit For Dummies she shares her tricks-of-the-trade on all aspects of planning, organizing, and pulling off a wedding without a hitch, including such crucial topics as:
Financing your wedding and staying within your budget
Seating for meals, tracking gifts, creating invitations and finding the perfect far-away destination for a destination wedding
Getting all the details of the ceremony right—from choosing an officiant and who walks with whom to cueing the music and dealing with the jitters
Throwing a whiz-bang reception—covers all the bases including meals, music, flowers, the cake, the bar...all the way down to the send-off
On the bonus CD-ROM you'll find:
Live links to top wedding Web resources
Templates, forms, worksheets, and sample contracts
A calculator to help you plan your reception
Spreadsheets to keep track of all your budget details
Your complete wedding planning survival guide, this all-in-one kit is the one accessory every bride-to-be absolutely must have.
Note: CD-ROM/DVD and other supplementary materials are not included as part of eBook file.
Introduction.

PART I: Getting Started.

Chapter 1: Big Picture Stuff.

Chapter 2: Love Is a Money-Spender Thing.

PART II: Be Our Guest.

Chapter 3: Naming Names.

Chapter 4: Invitations and Other Stops Along the Paper Trail.

Chapter 5: Traveling On: Destination Weddings.

PART III: Ceremony Survival Plan.

Chapter 6: Sensational Ceremonies: All Together, Vow!

Chapter 7: Cue the Music: Ceremonial High Notes.

Chapter 8: Creating a Foolproof Wedding-Day Schedule.

PART IV: A Rousing Reception.

Chapter 9: Ready to Where.

Chapter 10: Dance to the Music.

Chapter 11: A Taste of Things to Come.

Chapter 12: A Bed of Roses.

PART V: Gifts, Garb, Pies, and Tips.

Chapter 13: Greed Expectations and Registry Realities.

Chapter 14: The Best-Dressed List.

Chapter 15: Focusing on Photos.

Chapter 16: Nitpicky Tips for the Taking.

PART VI: The Part of Tens.

Chapter 17: Ten Ways to Use the World Wide Web to Plan Your Wedding.

Chapter 18: Ten Tips for Finessing Your Wedding Spreadsheets.

Chapter 19: Ten Amazing Places for Destination Weddings and Honeymoons.

Appendix: About the CD.

Index.

IDG Books Worldwide End-User License Agreement.

Installation Instructions.

Book Registration Information.