Weed Science: Principles and Practices, 4th Edition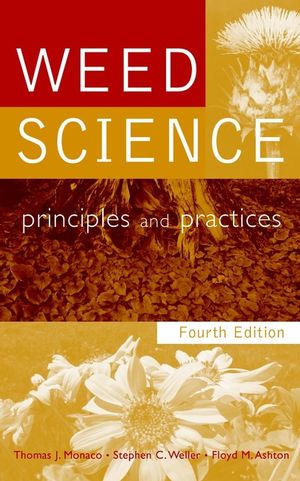 Weed Science: Principles and Practices, 4th Edition
ISBN: 978-0-471-27496-4
May 2002
700 pages
Description
The updated edition of the classic, fundamental book on weed science
Weed Science provides a detailed examination of the principles of integrated weed management with important details on how chemical herbicides work and should be used. This revised Fourth Edition addresses recent developments affecting weed science. These include the increased use of conservation-tillage systems, environmental concerns about the runoff of agrochemicals, soil conservation, crop biotechnology, resistance of weeds and crops to herbicides, weed control in nonagricultural settings and concerns regarding invasive plants, wetland restoration, and the need for a vastly improved understanding of weed ecology.
Current management practices are covered along with guidance for selecting herbicides and using them effectively. To serve as a more efficient reference, herbicides are cross-listed by chemical and brand name and grouped by mechanism of action and physiological effect rather than chemical structure. In addition, an introduction to organic chemistry has been added to familiarize readers with organic herbicides. Also included are guidelines on weed-control practices for specific crops or situations, such as small grains, row crops, horticultural crops, lawns and turf, range land, brush, and aquatic plant life.
Generously supplemented with 300 drawings, photographs, and tables, Weed Science is an essential book for students taking an introductory course in weed science, as well as a reference for agricultural advisors, county agents, extension specialists, and professionals throughout the agrochemical industry.
Preface ix
I Principles 1
1 Introduction to Weed Science 3
2 Weed Biology and Ecology 13
3 Integrated Weed Management 44
4 Herbicide Registration and Environmental Impact 84
5 Herbicides and the Plant 98
6 Herbicides and the Soil 127
7 Formulations and Application Equipment 146
II Herbicides 181
8 Chemistry and Classification of Herbicides by Mechanism of Action 183
9 Photosystem II Inhibitors 198
10 Pigment Inhibitors 223
11 Membrane Disrupters 235
12 Cell Growth Disrupters and Inhibitors 256
13 Cellulose Biosynthesis Inhibitors 284
14 Growth Regulator Herbicides 291
15 Lipid Biosynthesis Inhibitors 311
16 Inhibitors of Amino Acid Biosynthesis 326
17 Miscellaneous Herbicides 362
18 Herbicide Resistance in Crops and Weeds 379
III Practices 397
19 Small Grains and Flax 399
20 Field Crops Grown in Rows 413
21 Small-Seeded Legumes 443
22 Vegetable Crops 449
23 Fruit and Nut Crops 484
24 Lawn, Turf, and Ornamentals 500
25 Pastures and Rangelands 522
26 Brush and Undesirable Tree Control 531
27 Aquatic Weed Control 546
28 Industrial Vegetation Management 564
29 Diagnosis of Herbicide Injury 573
30 Weed Science in the Future 592
Appendix 599
Index 649
Updated treatment of herbicides, based on modern practices, and with herbicides grouped by mode of action rather than chemical structure.
Includes introduction to organic chemistry to aid in the understanding of the modes of action of each herbicide.
All herbicides crosslisted by chemical and brand names in extensive appendices.
Practical approach, emphasizing control methods.
Authors with outstanding teaching credentials.