Welch: An American Icon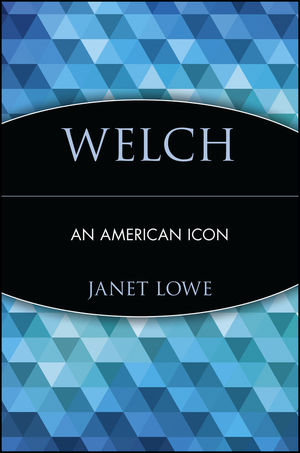 Welch: An American Icon
ISBN: 978-0-471-19527-6 March 2004 304 Pages
Description
A rare perspective on the personal philosophy, business savvy, and future of the chairman of the most admired company in the world
Jack Welch, chairman of General Electric, is due to retire this spring. Welch has transported GE into the new economy with his management style, his forward-thinking approach to new technology, and by encouraging creativity among his employees. This book provides a look at what the innovative powerhouse executive has brought to American business and what will ultimately be his legacy. Thorough, authoritative, and absorbing, Welch: An American Icon includes interviews with CEOs at other leading companies who have worked under Welch and been trained by him, as well as interviews with other GE executives.
Janet Lowe (Del Mar, CA) is an investment writer and author who has written sixteen business and biographical works, including the recent Damn Right!: Behind the Scenes with Berkshire-Hathaway Billionaire Charlie Munger (0-471-24473-2). Ms. Lowe is past editor of the San Diego Daily Transcript and Financial Editor of the San Diego Tribune. More than 200 of her business articles have appeared in such publications as Newsweek, the Christian Science Monitor, Los Angeles Times, and the San Francisco Chronicle.
Preface 7
Acknowledgements 11
Part I The Jack Welch Legacy 13
Chapter One The House of Magic: How Welch Became an American Icon 27
Chapter Two The Gospel of Good Management 49
Part II General Electric Then and Now 69
Chapter Three The Companies General Electric Dumped 81
Chapter Four The Companies General Electric Acquired 93
Chapter Five Building from Within 113
Chapter Six The Globalization of General electric 129
Chapter Seven Wired Welch 147
Chapter Eight The Dark Side of the Legacy 167
Part II The Future 189
Chapter Nine The Meta-Corporation: General Electric after Welch 201
Chapter Ten Welch after General Electric 223
Chapter Eleven Welch's Place in History 235
Appendixes 245
Appendix A General Electric and Jack Welch: The Chronology 247
Appendix B GE Values 255
Appendix C The CERES Principles 257
Appendix D General Electric Businesses 261
Appendix E General Electric-Nineteen-Year Performance Figures: 1980-1999 275
Notes 277
Index 297
"Readable insights into one of the most admired, and exposed, corporate leaders of recent decades." (Long Range Planning, June 2004)