Welfare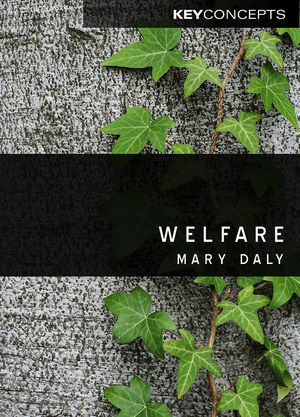 Welfare
ISBN: 978-0-745-64471-4 March 2011 Polity 224 Pages
Description
Welfare is an important concept in the social sciences. It is also challenged and contested not only by alternative concepts but also as a political goal in itself. Using a multi-disciplinary approach, this book takes a fresh look at the continuing relevance of welfare in the context of public policy, recent scholarly developments and changes in popular attitudes and behaviour.
The book connects theory and practice. Tracing the concept's background in economics, political science and social policy, the book juxtaposes welfare with newer approaches, such as subjective well-being, capabilities, care, social exclusion and social capital. The links between welfare and political ideas are also elaborated. The welfare state, as it developed historically in Europe and as it is changing in different countries, is given an important place in the analysis. Drawing on a range of empirical work, the book in its final part considers how individuals and groups attain welfare and how this shapes people's decisions and actions in their everyday lives.
Written in a lively style, the book provides students of sociology, social policy and political science with a valuable point of access to a range of debates and thinking in the field of welfare and related concepts.
Table of contents
Acknowledgements vi
Lists of Tables, Figures and Boxes vii
Introduction 1
1 Founding Ideas and Approaches 12
2 Well-being and Other Challenges to Conventional Understandings of Welfare 36
Intermezzo 59
3 Classic Political Philosophies of Welfare 61
4 The State and Public Welfare 84
Intermezzo 109
5 Securing Material Welfare through the Market and the State 111
6 The Personal and Social Relations of Welfare 134
7 Conclusion 154
Notes 161
References 169
Index 189
Reviews
"This is a must-read book for those for whom welfare and social policy are, or should be, synonymous."
Social Policy & Administration
"Daly provides a philosophical and sociological overview that makes this little book the new touchstone for the study of social policy everywhere."
Labour / Le Travail
"Mary Daly's lucidly written book analyses the core ideological and philosophical debates about welfare and also explores 'welfare in practice' - how welfare policies are actually delivered through the different mediums of the state, the market and the family. This is a truly excellent introduction to a complex and contested concept, and student will benefit enormously from reading it."
Nick Ellison, University of Leeds
"The welfare state is everywhere under attack. Academics respond with new accounts of how welfare is to be understood in a world of migration, recession, escalating inequality, make-work-pay and volatile families. This book provides an energetic review of an exciting and uncertain world."
Peter Taylor-Gooby, University of Kent
Features
Short introductory overview of the diverse theories and applications of the concept of 'welfare' across the social sciences.
Defines 'welfare' in a broad sense, taking in issues such as well-being, social rights, etc., rather than just looking at the welfare state or economic welfare.
Addresses issues such as political ideologies of welfare, different measurement methods, unequal access to welfare across society, sources of welfare (both material and otherwise).
Written by a respected figure in the field, particularly known for her work on gender and welfare.