Well-Being in Organizations: A Reader for Students and Practitioners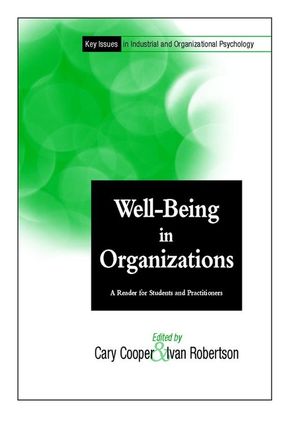 Well-Being in Organizations: A Reader for Students and Practitioners
ISBN: 978-0-471-49558-1
Jun 2001
354 pages
Product not available for purchase
Description
Part of a three-volume set of themed collections of reprinted articles from the International Review of Industrial and Organizational Psychology (IRIOP) from 1997-2001. Each volume provides collections around a topic area, with new introductions written by the editors for each volume. Written by leading scholars with international reputations in their fields, this authoritative collection provides a high quality, review that will be an invaluable resource for students, researchers and practitioners.
* Topic focussed, 'best of' collections on a specific theme conveniently incorporated into one book
* Ideal for graduate study, dissertations, projects, seminars


This volume considers the culture of the world of work and covers such issues as productivity and performance, employee control and health, workplace bullying, working time, gender issues and the pressure of work on the individual and it's consequences.
About the Series.

About the Editors.

Contributors.

Introduction.

HEALTH-RELATED ISSUES IN ORGANIZATIONS.

Work Control and Employee Well-being: A Decade Review (D.J. Terry and N.L. Jimmieson).

Workplace Bullying (H. Hoel, et al.).

Working Time, Health and Performance (A. Spurgeon and C.L. Cooper).

Understanding Acts of Betrayal: Implications for Industrial and Organizational Psychology (J.L. Pearce and G. R Henderson).

The Interface Between Job and Off-Job Roles: Enhancement and Conflict (M.P. O'Driscoll).

GENDER IN ORGANIZATIONS.

Women's Careers and Occupational Stress (J. Langan-Fox).

Organizational Men: Masculinity and Its Discontents (R.J. Burke and D.L. Nelson).

INDIVIDUAL/ORGANIZATIONAL ADJUSTMENT.

Drug and Alcohol Programs in the Workplace: A Review of Recent Literature (M.M. Harris and M.L. Trusty).

Work Adjustment: Extension of the Theoretical Framework (A.Tziner and E.I. Meir).

Vacations and Other Respites: Study Stress On and Off the Job (D. Eden).

Subject Index.
"One strength of these books is their international focus ... the collection includes many contributions on cutting-edge issues." (THES, 29 March 2002)