Well Connected: An Unconventional Approach to Building Genuine, Effective Business Relationships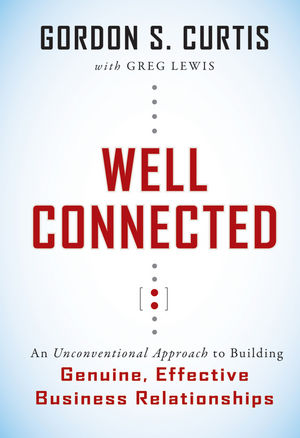 Well Connected: An Unconventional Approach to Building Genuine, Effective Business Relationships
ISBN: 978-0-470-64234-4 June 2010 Jossey-Bass 240 Pages
Description
Achieve your goals by selectively engaging the right people and connecting well with them
Smart executives who want to reach virtually any business goal-from raising capital to finding sales leads to finding the perfect job-know that networking is the key to their success. But traditional networking approaches-meet as many people as possible, amass huge numbers of "connections" and "friends" in your LinkedIn and Facebook networks-rarely produce more than a handful of relationships that pay off. In Well-Connected, networking maven and coach Gordon Curtis explains that the secret to building truly effective relationships is to narrow--rather than widen--your network. His proven methodology for building key relationships that deliver results every time emphasizes selectively engaging the right people and connecting with them well : First, identify a "critical enabler," someone who has access to the knowledge you need and is inclined to help you; second, unlock the critical enabler's willingness and ability to provide what you need by offering her something valuable before you ask her or him for anything.
Well-Connected reveals a breakthrough approach to networking that delivers predictable, positive results
Filled with success stories, the book provides an accessible action plan for all readers
Networking maven Gordon Curtis has been featured in The Wall Street Journal, The Boston Sunday Globe, Fast Company Magazine
Well-Connected serves as the playbook for sophisticated business people who know there's a better way to connect with the right people to get things done better and faster.
1 Redefining Networking for the Twenty-First Century.
2 Prep Work: Rethinking Your Networking Strategy.
3 Articulating Your Objective.
4 The Right Person: Identifying Your Critical Enabler.
5 The Referral: Landing an Introduction to a Critical Enabler.
6 The Right Approach: Providing Value to Your Critical Enabler.
7 The Right Person: Selecting a Critical Enabler Who Is Inclined, Available, and Like-Minded.
8 Putting It All Together.
9 Conclusion: Using the Right Person–Right Approach Method to Gain Clarity, Control, and Confidence.
Acknowledgments 215
About the Author 219
Index.