Wellbeing: A Cultural History of Healthy Living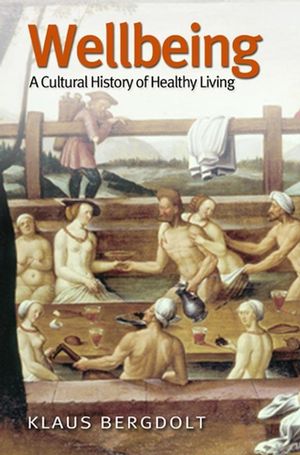 Wellbeing: A Cultural History of Healthy Living
ISBN: 978-0-745-62914-8 May 2008 Polity 416 Pages
Description
This authoritative new book offers a panoramic overview on health and healthy living from classical Antiquity through to the mid-nineteenth century, when scientific medicine began to gain ascendancy.

Klaus Bergdolt offers the reader a lively and well exemplified account of the numerous historical manifestations of dietetics showing that despite the diversity of notions of healthy and ill', directions on healthy living remain surprisingly constant throughout the centuries.

Notwithstanding his admiration for the achievements of modern medicine, Bergdolt regrets that the simplest dietetic principles such as moderation, as well as the notion of individual responsibility for ones own health, are increasingly neglected, and that the old health precepts are frequently divorced from modern medicine. However, some circumstances, including economic constraints, speak in favour of a better balance between scientific medicine and traditional teachings on healthy living.
Introduction 1
Prologue: The Ancient Advanced Civilizations – Egypt, Mesopotamia, Persia 7
1 Greece 14
The ideal of health in ancient Greece 14
The Presocratics 19
The Hippocratic corpus 24
Diocles of Carystus, a fourth-century health pedagogue 30
'Knidic' dietetics 33
Health in Plato and Aristotle 37
Dietetics in Alexandria 44
Cures and miracles, Aesculapius and Hygieia 46
Public health care and sport 53
Early Stoics and Cynics 56
2 Rome 62
People and literati: dietetics in ancient Rome 62
New doctors, new theories 73
Sport and baths 77
The sacred tales of Publius Aelius Aristides 79
The Roman Stoics: Plutarch, Seneca, Marcus Aurelius, Epictetus 82
Galen 87
3 Jewish and Early Christian Traditions 94
Jewish doctrines of health 94
Christus medicus 98
Early Christian doctrines of health 103
4 Medieval Traditions in the East and West 109
Jealing and health in early monasticism 109
The first German pharmacopoeia 113
Dietetics in Islam 116
Medieval doctrines of health in the West 124
Asceticism and mysticism – feasts and beauty care 131
Western and Eastern clerical scholars: Maimonides, Petrus, Hispanus, Roger Bacon 137
Hildegard of Bingen 146
Saints and miracle workers 149
The power of the stars 154
5 Doctrines of Health in the Renaissance 158
Petrarch's conception of health 158
Alberti and other intellectuals around 1500 161
House books and manuals – health and literature 168
Further humanists – Platina, More, Luther 173
Philosophy of health and prophylaxis in Venice – Mercuriale, Rangone, Cornaro 179
Gabriele Zerbi and the Gerontocomia 185
Paracelsus' teachings on health 187
Herbal books 191
Dietetics in daily life 194
6 Dietetics in the Seventeenth Century 199
Cartesianism and conservative tendencies 199
Van Helmont, Sylvius and other 'iatrochemists' 208
Doctrines of health in England – the dietetics of the state 210
Health through planning – the utopias 216
The dietetics of the Enlightenment – philosophers, pedagogues, charlatans 220
7 Doctrines of Health in the Eighteenth Century 226
Medical theories of health 226
The French Enlightenment and Rousseau 233
Tissot, Triller, Mai: health education at grassroots 239
Public health care 247
8 Around 1800 251
The notion of 'Lebenskraft' (vital force) – Hufeland and Kant 251
The recurrent topic of a dietetic regime for intellectuals 255
Alternative paths to health 258
Goethe 263
Romantic medicine – Schelling, Carus, Novalis 266
9 The Nineteenth Century 274
Trends in the nineteenth century 274
Rudolf Virchow and the dietetics of reason 276
Nietzsche, Schopenhauer and the philosophical critique of positivism 280
The revolution in nutrition and alternative paths to health 283
Afterword 287
Notes 289
References 327
Index 348
"A fascinating and nearly exhaustive overview of the traditional concepts of hygiene and dietetics from ancient times through to the nineteenth century."
Social History of Medicine
"The thematic and chronological scope of Wellbeing is ambitious; yet it is surprisingly readable, a testament to both its author and translator. The arrangement of chapters, clear index and thoughtful introduction draw in the reader and the comprehensive referencing provides a wealth of additional material without interrupting the flow of the text."
History
"In this scholarly, authoritative, and well-referenced monograph, Bergdolt presents the chronological development of many aspects related to well-being, including diet, cleanliness, exercise/sport, spirituality, and psychology, as well as healing (by useful and dubious means) ... Highly recommended for lower-level undergraduates and above and general readers."
Choice
"Klaus Bergoldt's masterly contribution to the bibliography of health has been a long time coming, but is no less welcome for that ... Bergdolt has achieved a heroic internal synthesis of the health genre."
Medical History
"This book is ... absolutely central to what traditionally constituted the mainstream of medicine, and Bergdolt handles his subject matter with clarity, skill and erudition."
Roy Porter


This authoritative new book offers a panoramic overview on health and healthy living from classical Antiquity through to the mid-nineteenth century.


Klaus Bergdolt offers the reader a thoroughly researched and a well exemplified examination of the numerous historical manifestations of 'dietetics'.


A fascinating discussion of the theories of health espoused by physicians through history, including how religious, philosophical and social factors produced notions of 'healthy' and 'ill', and directions on healthy living.


Will be of interest to general readers and to students and scholars of the history of medicine and health.