Western Ethics: An Historical Introduction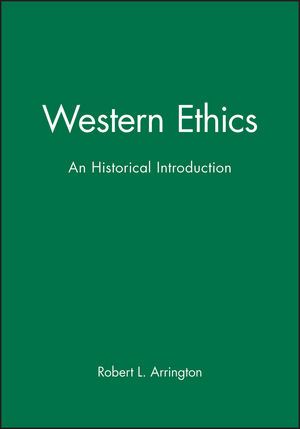 Western Ethics: An Historical Introduction
ISBN: 978-0-631-19416-3 January 1998 Wiley-Blackwell 436 Pages
Description
This volume provides a wide-ranging and lucid introducing to the major ethical theories found in the history of Western philosophy.
Table of contents
Preface vii
Acknowledgments x
1. Socrates and the Sophists: an Invitation to Ethics 1
2. Plato 34
3. Aristotle 63

4. Hellenistic Ethics: Epicurus and the Stoics 93
5. Ethics During the Medieval Period 122
6. Hobbes 157
7. Spinoza 184
8. Butler 211
9. Hume 231
10. Kant 261
11. Hegel 295
12. Bentham and Mills 318
13. Nietzsche 361
Epilogue: Into the Twentieth Century 378
Recommended Readings 388
Notes 393
Index 414
Reviews
"What Arrington has produced is a series of very sympathetic interpretations of each featured philosopher. Special emphasis is given throughout the text to those historical figures who have had the most influence on recent analytical moral philosophy, including Aristotle, Hobbes, Butler, Hume, Kant and Mill. Of particular interest to those who may consider using this text in their classes is the division of each chapter into concise segments that focus on each philosopher's key concepts, the attempt to include the latest scholarship, and the helpful list of recommended readings."
Doug Carriker
"Professor Arrington has written a concise and wonderfully understandable introduction to the history of moral philosophy in the West up to the twentieth century. I have no doubt that this book will and should become a standard text for both undergraduate and post-graduate study." Len Doyal, University of London

"Arrington deals with the major figures of Western ethics with clarity and precision, but above all with unusual sympathy. In combining respect for, and critical appraisal of each of the stands of Western thought, he conveys a sense of the rich weave of our ethical tradition." Richard D. Parry, Agnes Scott College<!--end-->
What's New
* A lengthy chapter is devoted to ethics during the Hellenistic period, and another covers highlights of the medieval period, including Thomistic natural law theory.
* There is a chapter on Spinoza and one on the main points of Hegel's ethical theory.
* Includes helpful epilogue on twentieth-century ethics, and key excerpts from the leading figures.