Western Power in Asia: Its Slow Rise and Swift Fall, 1415 - 1999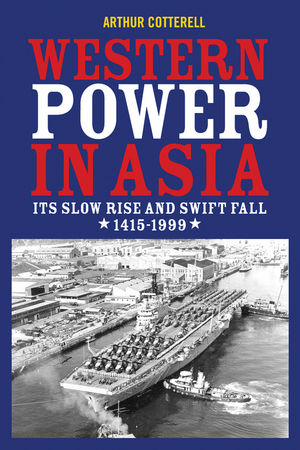 Western Power in Asia: Its Slow Rise and Swift Fall, 1415 - 1999
ISBN: 978-1-118-16999-5 August 2011 450 Pages
Description
For centuries, the major poweres of the West were seduced by the allure of the countries of "the Far East". Spices, textiles, silk and tea were the staples of East- West trade. But competition between Western traders eventually caused military intervention in Asian affairs and the establishment of colonial empires. These actions have shapred the history of mankind and left a legacy that still reverberates throughout Asia.

Western Power in Asia is a unique contribution to the understanding of present- day Asia. Essential reading for anyone interested in world history, Arthur Cotterell offers fascinating insights into five hundred extraordinary years of power and influence by the West, which disappeared spectacularly after the Second World War. The author's ability to tell both sides of the story, with the aid of contemporary illustrations as well as quotations, makes this book a tremendous resource for students of Asian history. And because the entire colonial experience is covered for the first time within a single volume, Western Power in Asia also provides the general reader with an unusual and invaluable perspective on East- West relations.

As countries such as China and India become key players on the world stage, Western Power in Asia provides a timely reminder of the path that led to their present positions, while allowing a poignant opportunity to reflect on how they might in future treat their Western trading partners.
Preface ix
Introduction xi
Photo Credits xix
PART 1: THE SLOW RISE OF WESTERN IMPERIALISM 1
Chapter 1: Iberian Expansion Overseas, 1415–1647 3
Portuguese and Chinese Maritime Exploration Compared — The Sea Route to India Discovered — The Formation of the Portuguese Empire — Mixed Portuguese Success in Southeast Asia — China and Japan.
Chapter 2: The Struggle for Supremacy, 1647–1815 53
Early Dutch Power — New Rivals: the French and the English — The Battle for India — Britain's Triumph — A Chinese Rebuff.
Chapter 3: Imperial Heyday, 1815–1905 107
The Opium Wars — The Indian Mutiny — France's Colonial Revival — The American Colony of the Philippines — The Russo-Japanese War.
PART 2: AN ASIAN CHALLENGE 159
Chapter 4: The Advent of Imperial Japan, 1868–1941 161
The Meiji Restoration — A New Balance of Power — Revolution in China — Colonial Unrest — The Sino-Japanese War.
Chapter 5: The Collapse of Western Power, 1941–45 215
The Outbreak of the Pacifi c War — Catastrophe in Southeast Asia — Japan's New Order in Asia — The Fall of the Japanese Empire — The Surrender of Japan
PART 3: WESTERN DECOLONISATION 267
Chapter 6: The Beginnings of Withdrawal, 1945–50 269
The Post-War Settlement — The End of the Indian Empire — Dutch Failure in Indonesia — The Communist Triumph in China — The Occupation of Japan
Chapter 7: Cold War Complications, 1950–99 321
US Intervention — Independence in British Southeast Asia — The Tragedy of Vietnam — Accommodating China and Japan — Post-colonial Conflicts Postscript: Last Post in Hong Kong 1997 373
Chronology 377
Endnotes 389
Bibliography 407
Index 441
This is three-dimensional historiography at its best." – The Japan Times