Western Republicanism and the Oriental Prince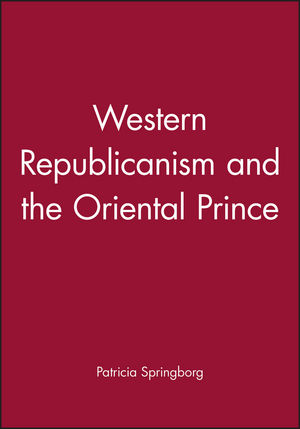 Western Republicanism and the Oriental Prince
ISBN: 978-0-745-60408-4 July 1992 Polity 344 Pages
Download Product Flyer
Download Product Flyer
Download Product Flyer is to download PDF in new tab. This is a dummy description. Download Product Flyer is to download PDF in new tab. This is a dummy description. Download Product Flyer is to download PDF in new tab. This is a dummy description. Download Product Flyer is to download PDF in new tab. This is a dummy description.
Description
The East/West divide seems to be as old as history itself, the roots of Orientalism and anti-Semitism lying far beyond the origins of modern Western imperialism. The very project of Western classical republicanism had its darker side: to purloin the legacy of the Greeks, distancing them from Eastern systems deemed 'despotic' and 'other'.
Western Republicanism and the Oriental Prince is a thoroughly revisionist book, challenging not only the comfortable view the West has of its own political evolution, but the negative stereotypes of non-Western systems. Not only did these images serve to legitimate early modern European nation states struggling for an identity, but they also served to justify slavery and other forms of domination over subject peoples.
Drawing upon archaeological and epigraphic evidence, Springborg discusses the Mesopotamian and ancient Egyptian contribution of political forms and cultic institutions to classical Graeco-Roman civilization, an Eastern legacy to the West long obscured for political reasons. A different reading of the foundation myths of Athens and Rome, certain texts of Plato, Aristotle, and the writings of Herodotus, Isocrates, Plutarch and Diodorus Siculus, permits us to restore possible lines of filtration. Renaissance thought, long believed to have ushered in the Western classical republican tradition, demonstrates a curious ambivalence towards powerful Eastern system, objects of fascination as much as fear. We do not yet find sedimented the divide between Western Democracy and oriental despotism, in which post-Reformation thought as been set in stone.
This major new study will be of interest to students of political history, political theory, comparative politics and political archaeology.
Table of contents
Acknowledgements.
Introduction.
Part I. The Greek Polis Versus the 'Great King':.
1. Pluralistic Structures and State Power.
2. Greeks and Barbarians, Freedom and Slavery.
3. Ionian Historia and Kulturgeschichte.
4. Polybius, on Monarchy, Freedom and Tyranny.
5. Patronage, Magnificence and Title to Rule.
6. Plato and the Egyptian Story.
7. Hesiod and Oriental Cosmogonies.
8. Foundation Myths and their Modes.
9. Philological Evidence: Gods, Goddesses and Place Names.
10. Herodotus, Diodorus, Isocrates and the Historical Record.
Part II. Renaissance Republicanism and the Eastern Marcher Lord: 1. Republic and Empire.
2. Aristotelian Republicanism or Renaissance Platonism?.
3. The Roman Legacy: Justice, Peace, Harmony and Grandezza.
4. Machiavelli on Hellenistic Expansionism and Economic Needs.
5. Machiavelli, the Marcher Lords and War.
6. Machiavelli and Polybius on the Predatory and Personalistic State.
7. Polybius and Machiavelli on Patronage and Corruption.
8. The Islamic Mirrors of Princes.
9. Ibn Khaldun and the Cycle of Regimes.
10. La Serenissima and the Sublime Porte.
Conclusion.
References.
Reviews
'Patricia Springborg takes as the centre of her history of Western politics kingship instead of the city state, Egypt and Mesopotamia instead of Greece and Rome, and obliges us to look at the Greco-Roman West in a Hellenistic and Nilotic perspective. The result is a brilliant inversion of what she considers to be a perversion of history, and may well become a classic of post-liberal or neo-liberal thinking.'
J. G. A. Pocock, Johns Hopkins University
'A bold book ... Western Republicanism and the Oriental Prince is a call to modern historiography to be more open-minded on the one hand, and more sceptical on the other.' Times Higher Education Supplement
Features
This book is unique in its coverage of the Orient as well as Western democratic systems
Springborg introduces a new theory of the deep background origins of orientalism and antisemitism which is much more critical than customary approaches
The book provides a new account of Renaissance thought, which illustrates that the gap betwen republicanism and despotism is narrower than generally thought.