Wetlands: A Threatened Landscape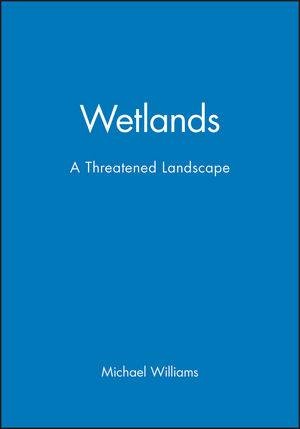 Wetlands: A Threatened Landscape
ISBN: 978-0-631-19199-5 October 1993 Wiley-Blackwell 432 Pages
Download Product Flyer
Download Product Flyer
Download Product Flyer is to download PDF in new tab. This is a dummy description. Download Product Flyer is to download PDF in new tab. This is a dummy description. Download Product Flyer is to download PDF in new tab. This is a dummy description. Download Product Flyer is to download PDF in new tab. This is a dummy description.
Description
Wetlands occupy some six per cent of the Earth's land surface. They vary from fens and freshwater marshes to tropical mangroves and tundra swamps. They perform vital hydrological, chemical and biological roles and contain unique and diverse forms of wildlife and habitat. They are disappearing at an alarming rate and are threatened by both the direct and indirect effects of human activity. The purpose of this book of especially commissioned articles is threefold: (a) to explore the occurrence and composition of wetlands and their physical and biological dynamics; (b) to consider the impact upon them of agriculture, industry, urbanisation and recreation; and (c) to examine what steps can be taken to manage and to preserve their future survival.
Table of contents
Preface.
Acknowledgements.
1. Understanding Wetlands: Michael Williams (Oriel College, Oxford University).
2. Wetland Hydronamics, Morphology and Sedimentation: Antony Orme (University of California, Los Angeles).
3. Soils and Ecology: Temperate Wetlands: Peter D. Moore (King's College, London).
4. Soils and Ecology: Tropical Wetlands: Thomas V. Armentano (Holcombe Research Institute, Indianapolis).
5. Archaeology and Wetlands: A Wealth of Evidence: Bryony Coles (University of Cambridge).
6. Agricultural Impacts in Temperate Wetlands: Michael Williams (University of Oxford).
7. Agricultural Impact in Tropical Wetlands: John R. Richards (Duke University).
8. Post-industrialization, Urbanization and Wetland Loss: David A. Pinder and Michael Witherick (University of Southampton).
9. Recreation and Wetlands: Impacts, Conflict and Policy Issues: David C. Mercer (Monash University).
10. Wetland Losses and Gains: James G. Gosselink and Edward Maltby (Louisianna State University and University of Exeter).
11. Protection and Retrospection: Michael Williams.
The Contributors.
Bibliography.
Related Titles: List of IBG Special Publications.
Index.
Reviews
"This is a handsome book on an important subject."
Environment and Planning
"A great mine of information, assembled by a distinguished group of authors ... provides a solid background to the wetland debate m... the main strength of the book certainly is its breadth ... this is a remarkably wide-ranging compendium of knowledge." Nature
"The book is enriched with stunning black and white photographs which have been intelligently selected and carefully presented. In the unlikely event of the text not convincing, the photographs and illustrations alone should have the desired impact. Wetlands is a book to have on your bookshelf if you are a working conservationist." Richard Lindsay, The Times Higher Education Supplement
"The reader is certain to learn new facts about wetlands structure and function and to gain new insights into the importance of old facts as they relate to the future of these threatened landscapes." BioScience
Features
The most comprehensive appraisal of the world's wetlands ever published
Extensively illustrated with original maps and photographs
Draws together and evaluates work from a very wide range of disciplines in the natural sciences, environmental science, geography, history, engineering and planning.