What Every Fidelity Investor Needs to Know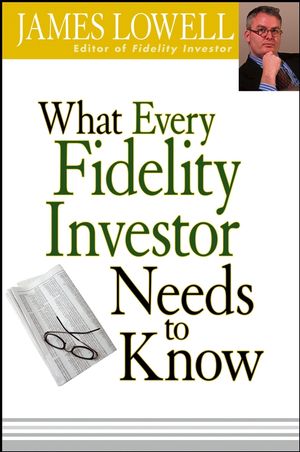 What Every Fidelity Investor Needs to Know
ISBN: 978-1-118-16059-6
Jul 2011
338 pages
Description
Fidelity offers investors some of the most innovative financial tools, products, and platforms currently available, and with What Every Fidelity Investor Needs to Know, James Lowell—one of the most trusted names in the investment business and a self-described Fidelity fanatic—will help you get the best out of what Fidelity has to offer; whether it be through taxable accounts, IRAs, or 401(k)s.
Preface.
Acknowledgments.
PART ONE: Fidelity: Past, Present, and Future.
Chapter 1: Fidelity: Past, Present, and Future.
Chapter 2: Navigating Fidelity in the Real World: Your Guide to Opening and Understanding Your Fidelity Accounts.
Chapter 3: You've Got Mail! Understanding Your Fidelity Statement.
Chapter 4: Fidelity.com: Online Investing at Fidelity.
PART TWO: Fidelity's 401(k) Focus: Retirement Planning and Platforms.
Chapter 5: Your Golden Years Begin with Copper: Planning Your Retirement through Fidelity.
Chapter 6: Charitable Giving/Trust and Estate Planning: At the End of the Day, Giving Is as Good as Receiving.
PART THREE: Fidelity's Famous Funds and Hidden Gems.
Chapter 7: Fidelity's Managers: Cultivating the Best Managers and Money Management Culture.
Chapter 8: Fidelity's Growth Funds.
Chapter 9: Fidelity's Growth and Income Funds: Fidelity's Growth and Income Funds Aren't Created Equal.
Chapter 10: Fidelity's International Funds: The World Is Fidelity's Oyster.
Chapter 11: Fidelity's Select Funds: Sector Funds for Active Traders and Long-Term Investors.
Chapter 12: Fidelity's Bond Funds: Fidelity's Hidden Strength.
Chapter 13: Fidelity's Money Market Funds: From These Small Acorns Grow Mighty Oaks.
Chapter 14: Fidelity's VIP Funds: Variable Insurance Products from Fidelity.
Chapter 15: Fidelity Advisor Funds: Broker-Sold Funds for Everyone, Fidelity Style.
Chapter 16: Fidelity Index Funds.
Chapter 17: Exchange Traded Funds: Fidelity's Playing Catch-Up, or Not.
PART FOUR: Securing Your Financial Future Using Fidelity's Funds.
Chapter 18: Model Portfolios: Getting a Return on Your Investment in Fidelity.
Chapter 19: Fidelity Hot Hands Funds: Chasing Performance Can Work.
Chapter 20: Your Own Fidelity Mutual Fund: Fidelity's Top 100 Holding.
Conclusion The Fidelity Way.
Appendix A: Fidelity Investor Centers.
Appendix B: Fidelity's 2006 Fund Manager Map.
Appendix C: Lowell and Lynch.
Glossary of Investment Terms.
Glossary of Fidelity Investors' Terms for Quick Reference.
About the Author.
Index.