What Matters in College?: Four Critical Years Revisited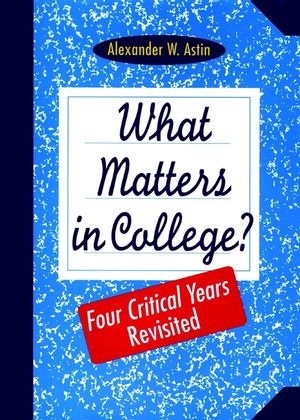 What Matters in College?: Four Critical Years Revisited
ISBN: 978-0-787-90838-6 January 1997 Jossey-Bass 512 Pages
Description
From the author of Four Critical Years--a book the Journal of Higher Education called the most cited work in higher education literature--What Matters in College? presents the definitive study of how students change and develop in college and how colleges can enhance that development. Based on a study of more than 20,000 students, 25,000 faculty members, and 200 institutions, the book shows how academic programs, faculty, student peer groups, and other variables affect students' college experiences.
Introduction to the Paperback Edition xi
Preface xix
The Author xxix
1 Studying College Impact 1
2 Environmental Variables 32
3 Assessing Environmental Effects: A Prototypical Example 83
4 Personality and Self-Concept 105
5 Attitudes, Value, and Beliefs 141
6 Patterns of Behavior 165
7 Academic and Cognitive Development 186
8 Career Development 245
9 Satisfaction with the College Environment 273
10 Summary of Environmental Effects 312
11 Effects of Involvement 365
12 Implications for Educational Theory and Practice 396
Resource A: Multiple Correlations at Selected Steps 438
Resource B: Longitudinal Changes in the Weighted and Unweighted Samples 442
References 447
Index 457
"An essential addition for the library of any college administrator, faculty member, or student affairs professional. It cuts through many of the myths in higher education with data-driven observations and conclusions. It is one of the best of its kind on the market. If you are invloved in the higher education enterprise, it is a must."