What Mental Health Practioners Need to Know about HIV and AIDS: New Directions for Mental Health Services, Number 87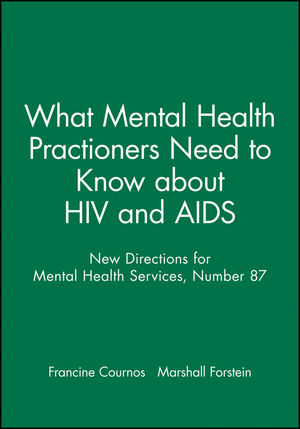 What Mental Health Practioners Need to Know about HIV and AIDS: New Directions for Mental Health Services, Number 87
ISBN: 978-0-787-91436-3
Oct 2000, Jossey-Bass
120 pages
Description
This volume provides an update on HIV-related issues for mental health professionals. It includes an overview of basic medical facts, neuropsychiatric manifestations, common psychiatric syndromes and their treatment, psychotherapy and coping strategies, prevention, adherance, legal and ethical issues, and some examples of HIV-related clinical care by frontline mental health providers. This is the 88th issue of the quarterly journal New Directions for Mental Health Services.
1. Essential Medical Facts for Mental Health Practitioners (Milton L Wainberg, Marshall Forstein, Alan Berkman, Francine Cournos).
2. Psychosocial Issues in Antiretroviral Treatment (Marshall Forstein).
3. Diagnosis and Treatment of HIV-Associated Neurocognitive Disorders (Stephen J. Ferrando).
4. Psychotherapeutic Strategies for Coping with HIV Infection (Claire Zilber).
5. Some Further Thoughts on Adjustment, Coping and Bereavement (Dottie Ward Wimmer, Jennifer M. Hackler).
6. Mood and Anxiety Disorders (J. Stephen McDaniel, Andrew C. Blalock).
7. Substance Abuse and HIV Infection (Stephen J. Ferrando, Steven L. Batki).
8. Severe Mental Illness and HIV-AIDS (Karen McKinnon, Jennifer Rosner).
9. Preventing HIV Infection Through Sexual-Behavior Change (Michael P. Carey).
10. Adherence to Treatment (Milton L. Wainberg, Francine Cournos).
11. Legal and Ethical Issues Relevant to HIV-Positive Psychiatric Patients (James Satriano).
12. Provider Issues in HIV Care (Larry K. Brown, Celia M. Lescano).
13. An Integrated Program for Comprehensive HIV Care (Joyce Seiko Kobayashi, Walter L. Standridge).
14. A Program for Families and Children Affected by HIV (Barbara Draimin).
15. A Practitioner's View from the Front Lines (Robert Stasko).