What Moves the Markets: How the Janus Factor Works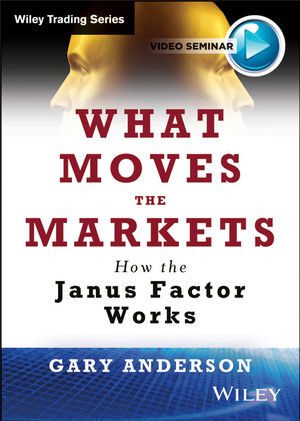 What Moves the Markets: How the Janus Factor Works
ISBN: 978-1-592-80466-5
Apr 2013
Description
Run time: 1 hour 27 min. The market can show a strong trend or it can reverse. When you can tell which of those two faces the market is wearing now, you can make big money and protect your profits. Now, this groundbreaking course unlocks the keys to The Janus Factor.
Janus, the early Roman god of gates and portals, is represented by two opposing faces, suggesting the two sides of a door and symbolizing the two-sided nature of things. In this revealing course, thirty-five year market veteran Gary Anderson explains ''The Janus Factor,'' exploring the dual nature of the markets, the two sides of risk, and shows you how to work the system.
Looking at a variety of factors that move the markets, Anderson illustrates how expansion and contraction create two distinct market environments, and how you can benefit the duality. You will learn to:
Use positive and negative feedback from market events to find winning trades,
View the market as a system of capital flows and put yourself on the right side of the money,
Be in at the right time and out at the right time to avoid the risk of missing profit, and
Translate these market-moving factors into money-making strategies.
If you want to follow the trend, you have to know when not to. Watch now to start putting the Janus Factor to work for your trades.