What Works: A Decade of Change at Champion International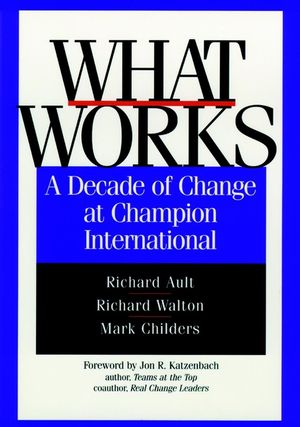 What Works: A Decade of Change at Champion International
ISBN: 978-0-787-94181-9
Jul 1998, Pfeiffer
181 pages
Description
An Inside Account of One Company's Remarkable Transformation

Take a fascinating, decade-long journey to witness the remarkable transformation of a mediocre company into a team-based top competitor. Your guides are a trio of participant/observers, all key players in achieving this systemic change of classic proportion.

--Jerome M. Rosow, president, Work in America Institute, Inc.

Anyone in a leadership position today, union or management, should read this book. It tells the important story of how labor/management partnerships can make a difference and provide workable solutions to complex problems presented by today's global economy.

--Boyd Young, international president, United Paperworkers International Union

A Cinderella story of perseverance and triumph, What Works is an instructive guide to achieving success through cooperation, teamwork, and courage. It tells the tale of how Champion International--one of America's oldest and largest industrial paper companies--transformed itself from an underachieving, tradition-bound organization into a thriving Wall Street winner over the course of eleven years. In answering the question of how a company can change successfully over time while remaining both humane and profitable, this brisk, brutally honest, insiders' account offers a number of hard-won lessons and practical tools to managers and visionaries faced with the same daunting challenges.
Foreward: A Remarkable Journey
1. Dogged Persistence And Unjustified Optimism: An Overview
2. Aligning the Organization: Strategy, Technology, and Values
3. Building Capabilities: Competence, Commitment, and Cooperation
4. Letting Go: Style, Structure, and Systems
AppAndix A: Research Methodology
AppAndix B: The Champion Way Statements
AppAndix C: Gainsharing
"Take a fascinating, decade-long journey to witness the remarkable transformation of a mediocre company into a team-based top competitor. Your guides are a trio of participant/observers, all key players in achieving this systemic change of classic proportions." --Jerome M. Rosow, president, Work in America Institute, Inc.

"What Works makes a very important contribution by challenging conventional wisdom. The story of Champion International's decade of change illustrates that a fundamental and permanent transformation in corporate culture and performance depAnds on an evolutionary, bottoms-up organizational learning process led by many managers at all levels." --Michael Beer, Cahners-Rabb Professor of Business Administration, Harvard Univesity

"Anyone in a leadership position today, union or management, should read this book. It tells the important story of how labor/management partnerships can make a difference and provide workable solutions to complex problems presented by today's global economy." --Boyd Young, international president, United Paperworkers International Union