What is Architectural History?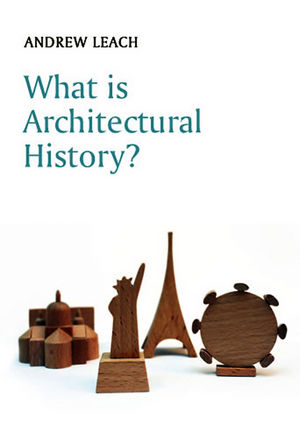 What is Architectural History?
ISBN: 978-0-745-65520-8 May 2013 Polity 184 Pages
Download Product Flyer
Download Product Flyer
Download Product Flyer is to download PDF in new tab. This is a dummy description. Download Product Flyer is to download PDF in new tab. This is a dummy description. Download Product Flyer is to download PDF in new tab. This is a dummy description. Download Product Flyer is to download PDF in new tab. This is a dummy description.
Description
What is Architectural History? considers the questions and problems posed by architectural historians since the rise of the discipline in the late nineteenth century. How do historians of architecture organise past time and relate it to the present? How does historical evidence translate into historical narrative? Should architectural history be useful for practicing architects? If so, how? Leach treats the disciplinarity of architectural history as an open question, moving between three key approaches to historical knowledge of architecture: within art history, as an historical specialisation and, most prominently, within architecture. He suggests that the confusions around this question have been productive, ensuring a rich variety of approaches to the project of exploring architecture historically.

Read alongside introductory surveys of western and global architectural history, this book will open up questions of perspective, frame, and intent for students of architecture, art history, and history. Graduate students and established architectural historians will find much in this book to fuel discussions over the current state of the field in which they work.
Table of contents
List of illustrations vii
Acknowledgements x
How to use this book xii
Introduction 1
1 Foundations of a modern discipline 9
Architectural history as the architect's patrimony 13
The architect as artist 19
Architecture and empirical knowledge 25
Architecture and culture 31
A modern discipline? 36
2 Organizing the past 41
Approach 43
Style and period 44
Biography 52
Geography and culture 57
Type 61
Technique 66
Theme and analogy 71
3 Evidence 76
4 How useful? 97
5 History and theory 115
Notes 134
Further reading 156
Index of names 164
Reviews
"A remarkable book which should prove extremely useful to anyone interested in the place of architecture in society, and in the questions faced by architects and historians when addressing the inheritance from the past or the practice of the present."
Architectural Research Quarterly
"Though the book is aimed primarily at students in schools of architecture and departments of art history, the clarity of Leach's prose and his penetrating syntheses make the book useful even for a more senior audience."
Journal of Architectural Education
"A timely arrival in the wake of claims for architecture's 'critical' and 'post-critical' status, this concise little book will prove a valuable compass to the on-going debates over the nature and future of architectural history. In a series of catholic cross-sections, Leach offers an erudite and even-handed account of the main lines of the discipline's (often divergent) developments even as he asks difficult questions regarding architectural historians' most basic assumptions."
John Harwood, Oberlin College
"In this remarkable book, Andrew Leach makes the complex topic of historical knowledge in architecture accessible to a wide audience. He examines the discipline from multiple perspectives, considering the shifts in theoretical and methodological positions and situating them in their historic contexts. He reveals the richness of the field by highlighting its strategies, ambiguities, engagements with other disciplines, negotiations between polarities (high culture/low culture and the general /the particular), and relationship to architectural practice. Through a careful analysis of key texts, Leach leads the reader to the ultimate question of the meaning of architectural history today."
Zeynip Celik, New Jersey Institute of Technology
"This is a very welcome addition to the sparsely populated field of studies on the historiography of architectural history. It is written in a clear, engaging and jargon-free language, but offers advanced undergraduate and graduate students an intellectually very sophisticated grounding in the origins and development of architectural history. By defining architectural history not as a purely academic pursuit, but as a cultural practice taking as its subject the multiple cultural agencies architecture exercises, it solidly places writing architectural history at the centre of today's reflection on culture."
Caroline van Eck, Leiden University
Features
Introductory overview of the discipline of architectural history, in the What is History? series.
Provides students with an entry point to the major theories, concepts, and debates around the study of the history of architecture.
Highlights the influence of related disciplines such as art history and critical theory on the study of architecture.
Emphasises the importance of architectural history and theory to the practice of architecture.