What is Citizenship?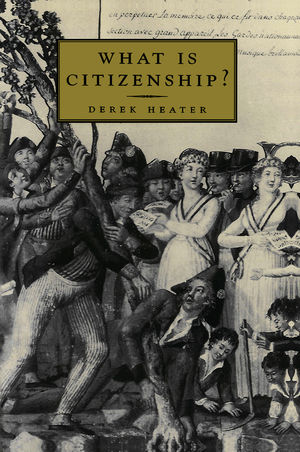 What is Citizenship?
ISBN: 978-0-745-62229-3 August 1999 Polity 208 Pages
Description
Structured analytically, the book introduces the reader to all the facets of citizenship.
Preface vii
Acknowledgement viii
Introduction 1
1 The Liberal Tradition 4
Origins • Citizenship and capitalism • Marshall's analysis • Marshall: influence and judgements • Social citizenship and neo-liberalism • Two additional elements • Citizenship rights at the turn of the century • The problem of rights in practice
2 The Civic Republican Tradition 44
Major thinkers • Purpose of citizenship • Style of citizenship • Qualities of citizenship • Role of the citizen • Forming the citizen • Revival and arguments • Adaptations for today
3 Who Are Citizens? 80
Legal definitions • Equality or elitism? • Feminist perspectives • Citizenship as nationality: origins • Citizenship and nationality synthesized • National citizens: made or born • Multiculturalism
4 Multiple Citizenship 115
The idea of multiple citizenship • Parallel citizenships • Federal constitutions • The European Union • Sub-state citizenships • The idea of cosmopolis • World citizenship identity and morality • World law and the citizen • World governance and the citizen • Pros and cons
5 Problems and Resolutions 155
Inherent problems and tensions • Current issues • The roles of education • Connections and essence
References 181
Select Reading List 187
Index 189
"[This] book fundamentally transforms our understanding of citizenship. It should become required reading in any course in political theory, philosophy, history, international relations and comparative politics that considers this key concept and its practical political and policy implications."
Joel Krieger, Wellesley College, USA

"This is an excellent book. It would not be possible for any good university course dealing with citizenship to omit this book from those items on the reading list marked 'essential'...The sharpness of thought shown in this book will make it easier to avoid the pitfalls and encourage people to reach for something that is coherent and meaningful...Superlatives are overused, but this book is a classic." Jan Davies, University of York
* A clearly written and accessible introduction to the concept of citizenship.
* A succinct, yet thorough analysis of the broad range of theoretical work on citizenship from Aristotle through to the present day.
* Includes a variety of case-studies and offers new interpretations.