What is Cultural History?, 2nd Edition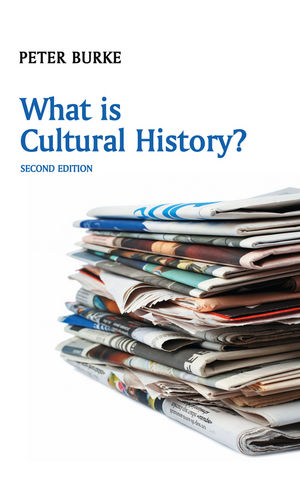 What is Cultural History?, 2nd Edition
ISBN: 978-0-745-64410-3 September 2008 Polity 168 Pages
Description
What is Cultural History? has established itself as an essential guide to what cultural historians do and how they do it. Now fully updated in its second edition, leading historian Peter Burke offers afresh his accessible guide to the past, present and future of cultural history, as it has been practised not only in the English-speaking world, but also in Continental Europe, Asia, South America and elsewhere.

Burke begins by providing a discussion of the 'classic' phase of cultural history, associated with Jacob Burckhardt and Johan Huizinga, and of the Marxist reaction, from Frederick Antal to Edward Thompson. He then charts the rise of cultural history in more recent times, concentrating on the work of the last generation, often described as the 'New Cultural History'. He places cultural history in its own cultural context, noting links between new approaches to historical thought and writing and the rise of feminism, postcolonial studies and an everyday discourse in which the idea of culture plays an increasingly important part. The new edition also surveys the very latest developments in the field and considers the directions cultural history may be taking in the twenty-first century.

The second edition of What is Cultural History? will continue to be an essential textbook for all students of history as well as those taking courses in cultural, anthropological and literary studies.
Acknowledgements vii
Introduction 1
1 The Great Tradition 6
Classic Cultural History 7
Culture and Society 15
The Discovery of the People 17
2 Problems of Cultural History 20
The Classics Revisited 20
Marxist Debates 23
The Paradoxes of Tradition 25
Popular Culture in Question 27
What is Culture? 29
3 The Moment of Historical Anthropology 31
The Expansion of Culture 31
The Moment of Historical Anthropology 34
Under the Microscope 44
Postcolonialism and Feminism 47
4 A New Paradigm? 51
Four Theorists 53
Practices 59
Representations 64
Material Culture 69
The History of the Body 72
5 From Representation to Construction 77
The Rise of Constructivism 77
New Constructions 82
Performances and Occasions 93
Deconstruction 99
6 Beyond the Cultural Turn? 102
Burckhardt's Return 103
Politics, Violence and Emotions 104
The Revenge of Social History 114
Frontiers and Encounters 118
Narrative in Cultural History 123
Conclusion 128
Afterword: Cultural History in the
Twenty-First Century 130
A Changing Scene 131
Cultural History and its Neighbours 135
Culture in Question 141
Notes 144
Select Publications: A Chronological List 163
Further Reading 168
Index 171
"Peter Burke has done it again! Outstanding scholar of early modern Europe, Burke has added an important work to his writings on the historian's craft. From its nineteenth-century origins, 'cultural history' appears here in its varied recent forms, shifting in its relation to social history, anthropology and literature, and changing its terms, concepts and targets. Both critical and generous, Burke suggests the paths ahead. This lucid book will delight any reader who wants to learn what contemporary historians are up to and where they might go."
—
Natalie Zemon Davis
, University of Toronto
"There is no clearer, more erudite, more humane voice in the field of cultural history than that of Peter Burke. This book is a delight, a tour in the company of a sure and steady guide to the ways men and women in the past have tried to make sense of the world in which they live."
—Jay Winter, Yale University
Acclaim for previous edition:
"What is Cultural History? is replete with useful information. Professor Burke is excellent at giving the reader handy sketches of the ideas of Michel de Certeau, Michel Foucault, Orientalism, the representation of the body, material culture, and so on."
—The Year's Work in Critical and Cultural Theory



A new edition of the best-selling introductory book to cultural history.

Written by one of the world's top cultural historians.

Brings this primer up-to-date with new material on the turns cultural history is taking in the early 21st Century and further-reaching global examples.

Cultural history is very interdisciplinary, and this book finds a market beyond history and historiography, across the humanities.