What is Environmental History?, 2nd Edition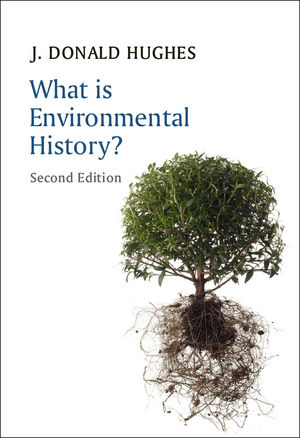 What is Environmental History?, 2nd Edition
ISBN: 978-1-509-50131-1 January 2016 Polity 200 Pages
Description
What is environmental history? It is a kind of history that seeks understanding of human beings as they have lived, worked, and thought in relationship to the rest of nature through the changes brought by time.

In this new edition of his seminal student textbook, J. Donald Hughes provides a masterful overview of the thinkers, topics, and perspectives that have come to constitute the exciting discipline that is environmental history. He does so on a global scale, drawing together disparate trends from a rich variety of countries into a unified whole, illuminating trends and key themes in the process. Those already familiar with the discipline will find themselves invited to think about the subject in a new way. This new edition has been updated to reflect recent developments, trends, and new work in environmental history, as well as a brand new note on its possible future.

Students and scholars new to environmental history will find the book both an indispensable guide and a rich source of inspiration for future work.
Table of contents
1. Defining Environmental History
Introduction
The Themes of Environmental History
Among the Scholarly Disciplines
Environmental History and the Older History
2. Forerunners of Environmental History
Introduction
The Ancient World
Medieval and Early Modern Environmental Thought
The Early Twentieth Century
3. The Emergence of Environmental History in the United States
Introduction
American History from Conservation to Environment
Strands of Environmental History in the United States
Collaborators with Environmental History
4. Local, Regional, and National Environmental Histories
Introduction
Canada
Europe
The Mediterranean
The Middle East and North Africa
India, South and Southeast Asia
East Asia
Australia, New Zealand, and the Pacific Islands
Africa
Latin America
The Ancient World and the Middle Ages
Conclusion
5. Global Environmental History
Introduction
Books on World Environmental History
Topics of Global Importance
Environmental Movements
World History Texts
Conclusion
6. Issues and Directions in Environmental History
Introduction
Professionalism
Advocacy
Environmental Determinism
Presentism
Declensionist Narratives
Political-Economic Theory
The Next Issues
Conclusion
7. Thoughts on Doing Environmental History
Introduction
Guidance on Methodology
The Search for Sources
Resources
Conclusion: The Future of Environmental History
Notes
Select Bibliography
Index
New To This Edition
This new edition has been updated to reflet recent trends and new work in environmental history, as well as a brand new note on the possible future of the field.
Reviews
"Anyone seeking help in navigating the shifting shoals of environmental history will give fulsome thanks to Don Hughes for this book. It is far and away the best guide yet to the issues and historiography of this emerging field, spanning the globe and delving into the deep as well as recent past."
J. R. McNeill, Georgetown University

"What is Environmental History? is a masterfully condensed overview of one of the most urgent and rapidly developing fields of history. Written by a scholar of classical antiquity, it gracefully covers ancient, medieval, and modern periods – with a global vision. A state-of-the-art report for any scholar, and a perfect introduction for the student."
Sverker Sörlin, Royal Institute of Technology, Stockholm