What is Gender History?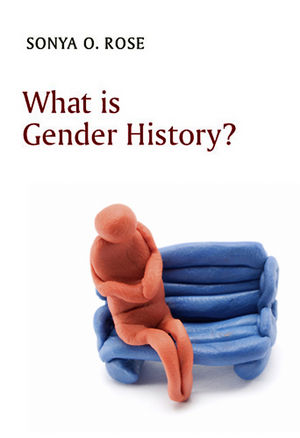 What is Gender History?
ISBN: 978-0-745-64614-5
Jun 2010, Polity
208 pages
Description
This book provides a short and accessible introduction to the field of gender history, one that has vastly expanded in scope and substance since the mid 1970s. Paying close attention to both classic texts in the field and the latest literature, the author examines the origins and development of the field and elucidates current debates and controversies. She highlights the significance of race, class and ethnicity for how gender affects society, culture and politics as well as delving into histories of masculinity. The author discusses in a clear and straightforward manner the various methods and approaches used by gender historians. Consideration is given to how the study of gender illuminates the histories of revolution, war and nationalism, industrialization and labor relations, politics and citizenship, colonialism and imperialism using as examples research dealing with the histories of a number of areas across the globe.

Written by one of the leading scholars in this vibrant field, What is Gender History? will be the ideal introduction for students of all levels.
Preface and Acknowledgements vi
1 Why Gender History? 1
2 Bodies and Sexuality in Gender History 17
3 Gender and Other Relations of Difference 36
4 Men and Masculinity 56
5 Gender and Historical Knowledge 80
6 Assessing "Turns" and New Directions 102
Notes 122
Suggestions for Further Reading 138
Index 147
"Provides a brilliant overview of the field and yet does not oversimplify. It is top of my reading lists for undergraduate and postgraduate students alike."
European History Quarterly
"A condensed yet comprehensive overview of how gender historians can open up history to re-interpretation. Rose demonstrates how gender can provide a lens through which to deconstruct and re-interpret historical knowledge, challenging the historical roles and realities of women and men and offering space to investigate previously unexplored aspects of the historical world; making visible what once was invisible."
The Kelvingrove Review
"Highly recommended as an accessible, reliable and erudite guide to the discipline."
English Historical Review
"This book is recommended for two reasons. The first is that it gives a coherent and comprehensive account of recent work on the subject of gender and history. As such, it sets out clearly debates and the context of debates. But the second reason is, in pedagogic terms, just as important: Rose's book brings alive important questions about our past, and not least demonstrates how a better understanding of history (and in this case we have to assume one that is gendered) is crucial to our view of the present."
Times Higher Education


"Sonya Rose has written a wide-ranging survey of an important and rapidly changing field of historical study. Notable for its clarity, its sophistication, and its generous appreciation of diverse approaches, this book provides a splendid introduction to the study of gender dynamics in history."
Raewyn Connell, University of Sydney


"In this very useful book Sonya O. Rose clarifies but does not simplify the complicated epistemological debates that have enriched gender history, and she provides succinct summaries of the abundant and far-ranging work of gender scholars that will profit readers from all fields and levels of preparation."
Robert A. Nye, Oregon State University


"This excellent survey of gender history is concise, informative and lucid. Herself a pioneer of the field, Sonya Rose explains concepts and terminology, debate and theoretical evolution, all with admirable balance and clarity. It will be a valuable guide to the history of gender for students and teachers alike."
Angela Woollacott, Australian National University


"This book is a lucid introduction to historians' engagement with gender. Rose guides us through the territories of sexuality, the body, masculinity, and subjectivity while demonstrating throughout the historical importance of gender's intersection with class, race and ethnicity. Written in a clear and direct style, and embellished with excellent examples, the book is a friend able to help the reader understand complex issues vital to our appreciation of the past and the present."
Penny Summerfield, University of Manchester
"Sonya O. Rose's book What is Gender History? is an excellent introduction in the development of the theoretical debates, methods and themes of gender history, which is extremely useful for every student who wants to explore the field of gender history and its evolution. It is written in such an accessible way that also undergraduates will find it very interesting."
Karen Hagemann, University of North Carolina
Provides a short and accessible introduction to the field of gender history.
Examines the origins and development of the field and elucidates current debates and controversies.
Discusses in a clear manner pitched at undergraduate students the various methods and approaches used by gender historians.
Written by a distinguished scholar who has been central to the development of this field.