What is Migration History?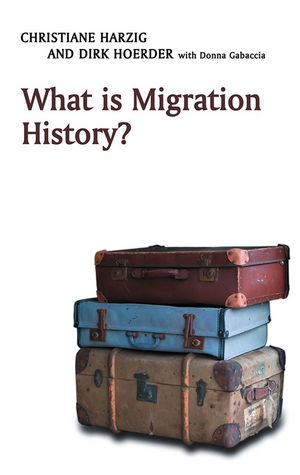 What is Migration History?
ISBN: 978-0-745-65629-8 April 2013 Polity 208 Pages
Description
The study of migration is and always has been an interdisciplinary field of study, vast and vibrant in nature. This short introduction to the field, written by leading historians of migration for student readers, offers an acute analysis of key issues across several disciplines. It takes in its scope an overview of migrations through history, how classic theories have interpreted such movements, and contemporary topics and debates including transnational and transcultural lives, access to citizenship, and migrant entrepreneurship.
Historical perspectives reveal how the scholarly field emerged and developed over time and across cultures and how historians of migration have recently begun to re-write the story of human life on earth. Throughout, the authors suggest how the movements of millions of mobile men and women persistently challenge changing scholarly paradigms for understanding their lives. Key concepts and theories, such as systems, networks, and gender, are explained and historicized to produce a complex picture of the interaction of migrants, scholars, and disciplinary cultures in a globalized world.
Table of contents
Detailed Contents viii
List of Maps xix
Preface xxi
Chapter 1 Introduction: Popular Views – Scholarly Reconceptualizations 1
Chapter 2 Migration in Human History – The long View 8
Chapter 3 Theories of Migration and Cultural Interaction 53
Chapter 4 A Systems Approach to Migrant Trajectories 87
Chapter 5 Migrant Practices as a Challenge to Scholarship 115
Chapter 6 Perspectives in the Early
Twenty-First Century 133
Notes 148
Index 170
Reviews
"Up-to-date and intelligent, it covers an enormous span, both chronologically and conceptually, from the ancient world to the modern; from Asia to Europe and the Americas; from historiography to system theory and intercultural relations."
Times Higher Education
"A very helpful tool for both learning about migration history and migration research."
European History Quarterly
 "This book provides the reader with an updated, and mostly complete, summary of migration history while remaining a short read. Beyond making a great reading assignment for an undergraduate class, this book truly manages to challenge and engage its readership into rethinking its notions of migration out of the classic American area."
Canadian Journal of History
"The book's great strength is in addressing a great number of historical and contemporary topics in migration as well as numerous analytical perspectives."
Journal of World History
"Comprehensive and lively, this volume spans the history and scholarship on migtration, telling a gendered tale that attends to structure, agency and migration sysstems. Harzig, Hoerder and Gabaccia systematize an array of concepts and insights from scholars worldwide, then conclude with a flourish that gives due to emerging transcultural societal studies and to migrants themselves."
Leslie Moch, Michigan State University
"This is an impressively wide-ranging and accessible overview of global migration. It charts the long history of international migration, critiques migration theory and raises important questions for contemporary migration scholarship and policy. It should become an essential text book for courses dealing with global migration."
Colin Pooley, Lancaster University
"This is a short book with a long temporal span and a big conceptual framework. It treats migration not as a chapter of U.S. history, or any other national narrative, but as a central and intrinsic element of the human condition. Its historical coverage stretches from the first homo sapiens exodus out of our East-African cradle to the present. The authors offer a thoughtful discussion of migration and cultural-interaction theories. They not only stress the variety of migration experiences but also detect recurrent patterns in what at first sight may seem endless diversity and build explanatory typologies based on their findings."
Jose C. Moya, Director, Forum on Migration, Barnard College, Columbia University
What's New
A concise introduction to a key and vibrant field of history: migration.

Written by some of the leading scholars in the international field.

Balances material on the theories and approaches to migration with providing an overview of the history of human migration itself.

Introduces the key areas of contemporary debate, including gender, transnational and transcultural lives, and migrant entrepreneurs.