What is Military History?, 2nd Edition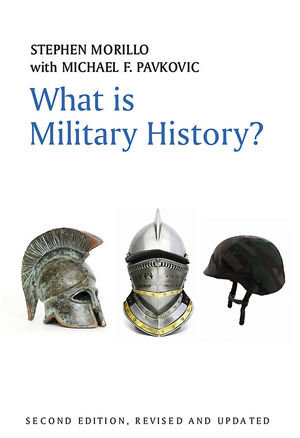 What is Military History?, 2nd Edition
ISBN: 978-0-745-65979-4
Nov 2012
180 pages
Product not available for purchase
Description
This clear, readable introduction to the popular field of military history is now available in a refreshed and updated second edition. It shows that military history encompasses not just accounts of campaigns and battles but includes a wide range of perspectives on all aspects of past military organization and activity. In concise chapters it explains the fundamental features of the field, including:

The history of military history, showing how it has developed from ancient times to the present; The key ideas and concepts that shape analysis of military activity; it argues that military history is as methodologically and philosophically sophisticated as any field of history; The current controversies about which military historians argue, and why they are important; A survey of who does military history, where it is taught and published, and how it is practiced; A look at where military history is headed in the future.

The new edition of What is Military History? provides an up-to-date bibliography and cutting edge new case studies, including counterinsurgency, and as such continues to be ideal for classes in military history and in historiography generally, as well as for anyone interested in learning more about the dynamics of a rich and growing area of study.
1 An Introduction to Military History 1
Military History: Defi nitions, Topics, Scope 3
Who Studies Military History and Why? 5
Overview of this Book 9
2 Military Historiography 11
Classical Roots: Military History in Ancient Times 12
Military History in the Traditional World: Histories, Manuals, and War Tales 21
Science, Nationalism, and General Staffs: Military History in the Nineteenth and
Early Twentieth Centuries 30
New Military Histories: The Transformations of the Last 50 Years 37
3 Conceptual Frameworks 45
Military History and Philosophy of History 46
Military Art and Practice 55
War and Society: Interdisciplinary Infl uences 64
Global History and Comparative Methodology 70
Conclusions 74
4 Current Controversies 75
Military Revolutions 77
Counter-Insurgency: History and Policy 86
""The West"": Exceptionalism and Dominance? 89
War, Society, and Culture: Other Controversies 96
Conclusion: Revisionism and Reading the Process of History 102
5 Doing Military History 105
Forms 105
Sources 110
Programs 113
Journals, Presses, and Associations 115
6 The Future of Military History 118
Trends in the Field 119
The Politics of Military History 122
Notes 125
Further Reading 139
Index 155
Updated bibliography and updated case studies, including counterinsurgency
""A fast-paced, authoritative introduction to what is possibly the oldest and still the most popular form of historical writing. The innovations of the past 50 years that reinvigorated military history and transformed it into one of the strongest sub-fields in the historical discipline are skillfully highlighted. Snooty academics who dismiss military history as a simple narrative concerning battles and generals need to read this book to discover the rich scholarship they have been missing. Serious military historians seeking new arguments to justify their specialty will also benefit from this informative and witty survey.""
Gregory J. W. Urwin, Temple University
""A clear and thoughtful account of military history that is particularly valuable because of its chronological and geographical range. Interesting, well-written, and wide ranging, it can be highly recommended.""
Jeremy Black, University of Exeter
""The thoughtful, overdue answer to a question that has needed answering since the profound transformation of the field in the years after Vietnam. Nowadays military history is so much more than drums and trumpets; it is the study of societies, economies, and political systems wracked by the human and material demands of war. Morillo and Pavkovic never lose sight of the centrality of battle to all of this, but lucidly fill in the strategic and social environment with a cogent review of the best, most recent literature.""
Geoffrey Wawro, University of North Texas
""An indispensable aid for anyone who is interested in the study of warfare. World-wide in its scope, sophisticated in its analysis, and eminently readable, this remarkable work walks readers through the past, present, and potential future of one of the most complex fields of historical endeavor.""
Andrew Wiest, University of Southern Mississippi


""Although military history is often accused of having a static and traditionalist approach, Morillo and Pavkovic show the opposite here. Their study of the influence of social, cultural, gender and global history on the field of military history enriches not only the content but also extends the methodological toolbox.""
H-Soz-u-Kult
New edition of a successful introduction to the field of military history
Provides students with a concise primer to the main themes, theories, and methods for studying military history
Has been thoroughly updated to reflect the most recent developments in the field, including new case studies on naval warfare and counterinsurgency
Written by two internationally renowned scholars