What is Social Theory?: The Philosophical Debates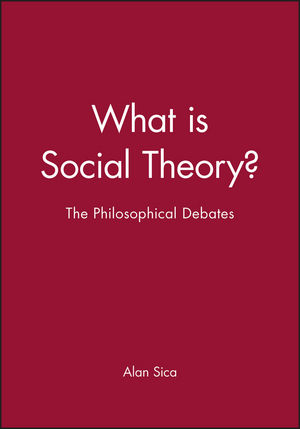 What is Social Theory?: The Philosophical Debates
ISBN: 978-0-631-20955-3 October 1998 Wiley-Blackwell 300 Pages
Download Product Flyer
Download Product Flyer
Download Product Flyer is to download PDF in new tab. This is a dummy description. Download Product Flyer is to download PDF in new tab. This is a dummy description. Download Product Flyer is to download PDF in new tab. This is a dummy description. Download Product Flyer is to download PDF in new tab. This is a dummy description.
Description
An innovative and wide ranging collection of original essays by today's leading social theorists aiming to clarify the current uses being made of philosophical ideas in the creation of social thought.
Table of contents
List of Contributors.
1. Philosophy's Tutelage of Social Theory: A Parody of Profundity? Alan Sica (Pennsylvania State University).
2. Mapping Postmodern Theory: Robert J. Antonio (University of Kansas).
3. A Thesaurus of Experience: Maurice Natanson, Phenomenology and Social Theory: Mary F. Rogers (University of West Florida).
4. A Social Epistemology of the Structure-Agency Craze: From Content to Context: Steve Fuller (University of Durham).
5. Making Normative Soup with Non-normative Bones: Stephen Turner (University of South Florida).
6. Criteria for a Theory of Knowledge: Jennifer Croissant (University of Arizona).
7. Examples, Submerged Statements and the Neglected Application of Philosophy to Social Theory: Stanley Lieberson (Harvard University).
8. Loosening the Chains of Philosophical Reductionism: Steven Rytina (McGill University).
9. Social Order and Emergent Rationality: Michael Macy (Cornell University).
10. Theoretical Models: Sociology's Missing Links: John Skvoretz (University of South Carolina).
11. Sociological Models: Paul Humphreys (University of Virginia).
12. Culture and Social Structure: Peter Blau (University of North Carolina/Chapel Hill).
Name Index.
Subject Index.
Reviews
"To invite authors of two broadly contrasting sociological camps to engage in the discussion helps to highlight a wide variety of issues in such a clear manner as to be of great value to students, not to mention a wider readership. For it not only enables the reader to understand the broadly accepted dual demarcation of interpretative and positive, but also to illuminate the more subtle differences that exist within each camp."
Michael Keaney, University of Glasgow
"There is no more thorough an editor in sociology than Alan Sica for the simple reason that there are so few who are as broadly literate as he and who, at the same time, know and understand good books and good writing. The list of authors include the most astute sociologists who happen to know philosophy." Charles Lemert, Wesleyan University
"This volume would make useful reading for those interested in the philosophical underpinnings of social theory and where its continued inter-connection may take it in the future as well as, arguably, essential reading for those within the discipline who look more towards the natural sciences than the humanities for their influence." John Walliss, BSA
Features
Original essays by leading social theorists representing diametrically opposed camps within the larger framework of social thought
Presents interpretivist sociology on one side and formal modelists on the other to examine the links between these two areas of social inquiry
Essays are woven together by revealing how a common interest in philosophy, both ancient and modern, continues to influence and shape the way social theory is created.