When Our World Became Christian: 312 - 394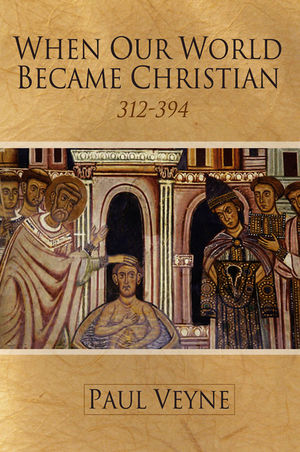 When Our World Became Christian: 312 - 394
ISBN: 978-0-745-68337-9 October 2013 Polity 240 Pages
Download Product Flyer
Download Product Flyer
Download Product Flyer is to download PDF in new tab. This is a dummy description. Download Product Flyer is to download PDF in new tab. This is a dummy description. Download Product Flyer is to download PDF in new tab. This is a dummy description. Download Product Flyer is to download PDF in new tab. This is a dummy description.
Description
This short book by one of France's leading historians deals with a big question: how was it that Christianity, that masterpiece of religious invention, managed, between 300 and 400 AD, to impose itself upon the whole of the Western world? In his erudite and inimitable way, Paul Veyne suggests three possible explanations.

Was it because a Roman emperor, Constantine, who was master of the Western world at the time, became a sincere convert to Christianity and set out to Christianize the whole world in order to save it?

Or was it because, as a great emperor, Constantine needed a great religion, and in comparison to the pagan gods, Christianity, despite being a minority sect, was an avant-garde religion unlike anything seen before?

Or was it because Constantine limited himself to helping the Christians set up their Church, a network of bishoprics that covered the vast Roman Empire, and that gradually and with little overt resistance the pagan masses embraced Christianity as their own religion?

In the course of deciding between these explanations Paul Veyne sheds fresh light on one of the most profound transformations that shaped the modern world - the Christianization of the West. A bestseller in France, this book will appeal to a wide readership interested in history, religion and the rise of the modern world.
Table of contents
Acknowledgements vii
1 Constantine: The Saviour of Humanity 1
2 Christianity: A Masterpiece 17
3 The Church: Another Masterpiece 33
4 The Dream of the Milvian Bridge: Constantine's Faith and his Conversion 46
5 The Motives, Both Major and Minor, for Constantine's Conversion 58
6 Constantine, the Church's 'President' 73
7 An Ambivalent Century, with an Empire at Once Pagan and Christian 84
8 Christianity Wavers, Then Triumphs 98
9 A Partial and Mixed State Religion: The Fate of the Jews 107
10 Was There an Ideology? 123
11 Does Europe Have Christian Roots? 138
Appendix: Polytheisms and Monolatry in Ancient
Judaism 150
Notes 177
Supplementary Notes 236
Index 242
Reviews
"Takes its readers on a fascinating journey through the crucial events ... As Veyne's book vividly made clear throughout, without Constantine's conversion Christianity could have been a mere 'historical parenthesis'."
Kelvingrove Review
"A vigorously written interpretative essay about the triumph of Christianity in late antiquity, by a selfprofessed unbeliever. Veyne, always as sensitive to the process of writing history as he is to the study of the past itself, approaches the early history of Christianity as an avant-garde religion. He examines the implications of its appropriation by the state with great energy and in an uncompromising manner."
Rosamond McKitterick
Features
• Paul Veyne is one of the best historians in France today and is very well known for his outstanding books on Ancient Rome.
This book focuses on a key historical event: Emperor Constantine's conversion to Christianity in the 4th Century. This was an event of great historical significance which triggered Christianity's rise to dominance in the West.
• The book won a major historical prize and has been a huge bestseller in France.
• This book will have a wide appeal beyond history students.