Where Value Hides: A New Way to Uncover Profitable Growth For Your Business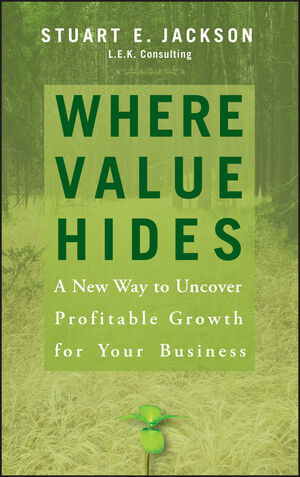 Where Value Hides: A New Way to Uncover Profitable Growth For Your Business
ISBN: 978-0-470-00920-8 October 2006 280 Pages
Description
Where Value Hides introduces the Strategic Market Positioning theory, which accurately reveals a company's true health based on factors like market share. SMP helps your business define its markets, measure the real value of those markets, and correct bad assumptions. This book uses real-life examples to explain how to use SMP to directly and positively impact corporate health and profits.
Table of contents
ACKNOWLEDGMENTS vii
INTRODUCTION: WHERE VALUE HIDES AND WHY IT MATTERS 1
I WHY PROFITABLE GROWTH IS SO HARD TO FIND
1 WHERE YOU SHOULD COMPETE 11
2 BIGGER MAY BEWORSE 35
3 UNCOVERINGWHERE VALUE HIDES 55
II HOW TO USE STRATEGIC MARKET POSITION TO CHART YOUR BUSINESS STRATEGY
4 CAPTURING VALUE 79
5 DOING THE DETECTIVEWORK 105
6 APPLYING SMP TO SALES AND MARKETING 139
III KEY APPLICATIONS OF STRATEGIC MARKET POSITION
7 USING SMP TO FIND NEW MARKETS 165
8 SMP STRATEGIES FOR LOW-GROWTH OR LOW-MARGIN BUSINESSES 191
9 WHEN DO ACQUISITIONS MAKE SENSE? 217
APPENDIX: GUIDE TO INFORMATION SOURCES
FOR COMPETITIVE AND MARKET INTELLIGENCE 249
NOTES 261
INDEX 273
Reviews
What I like about Mr Jackson's SMP analysis is that it promises to liberate managers from the inherited and still often unchallenged idea that "bigger is always better" as far as market share is concerned. This thinking goes back at least four decades - when ICI ruled the world and when Bruce Henderson's Boston Consulting Group introduced its "experience curve" to a world of grateful clients. (
Financial Times
, Tuesday, December 12, 2006
)
When a business does not perform as well as hoped, how do you decide whether it's an operational problem or a more fundamental problem with how your company is positioned against competitors? When you are required to look for new sources of growth each year, how do know which opportunities truly build on your existing competitive strengths versus taking you into new business areas where your existing capabilities no longer apply?
Mr. Jackson offers a new approach, strategic market positioning, to answering these tough strategic questions.(Journal of Business Strategy, January issue)
Jackson shows how you can draw on SMP [Strategic Market Position] to create clarity around essential business decisions with confidence. . . His writing style is readable, yet weighty and gives valuable insights into improving strategy and creating frameworks for growth. If you want to understand what really drives corporate value you could do worse than read this. (European CEO, Wednesday, January 31, 2007)