Where the Domino Fell: America and Vietnam 1945 - 1995, Revised 5th Edition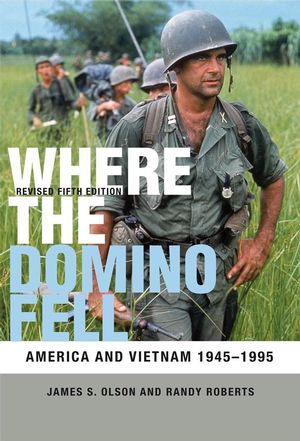 Where the Domino Fell: America and Vietnam 1945 - 1995, Revised 5th Edition
ISBN: 978-1-444-35841-4
Sep 2011, Wiley-Blackwell
336 pages
Description
Where the Domino Fell recounts the history of American involvement in Vietnam from the end of World War II, clarifying the political aims, military strategy, and social and economic factors that contributed to the participants' actions.



Provides an accessible, concise narrative history of the Vietnam conflict


A new final chapter examines Vietnam through the lens of Oliver Stone's films and opens up a discussion of the War in popular culture


A chronology, a glossary, and a bibliography all serve as helpful reference points for students
Preface.
Prologue: LBJ and Vietnam.
1. Eternal War: The Vietnamese Heritage.
2. The First Indochina War, 1945-1954.
3. The Making of a Quagmire, 1954-1960.
4. The New Frontier in Vietnam, 1961-1963.
5. Planning a Tragedy, 1963-1965.
6. Into the Abyss, 1965-1966.
7. The Mirage of Progress, 1966-1967.
8. Tet and the Year of the Monkey, 1968.
9. The Beginning of the End, 1969-1970.
10. The Fall of South Vietnam, 1970-1975.
11. Distorted Images, Missed Opportunities, 1975-1995.
12. Oliver Stone's Vietnam.
Bibliography.
A Vietnam War Chronology.
Glossary and Guide to Acronyms.
Index.
Maps.
Map 1: Indochina, 1995.
Map 2: Vietnam, 1945 to 1975.
Map 3: Major battles of the Tet offensive, January 1968.
"Where the Domino Fell is a very well informed and well documented critique of U. S. policy in Vietnam. From the opening years of U.S. involvement in Indochina during the Truman administration, down to the final withdrawal in the mid-1970s, the authors have provided an in-depth and topically balanced analysis of how and why the United States became involved in Vietnam and of the strategy debates that occurred over how to win the war…. An impressive achievement."
–William J. Duiker, Ho Chi Minh (2000) Sacred War: Nationalism, and Intervention, and the Lessons of Vietnam (1995)


Provides an accessible, concise narrative history of the Vietnam conflict

A new final chapter examines Vietnam through the lens of Oliver Stone's films and opens up a discussion of the War in popular culture

A chronology, a glossary, and a bibliography all serve as helpful reference points for students