Which Equalities Matter?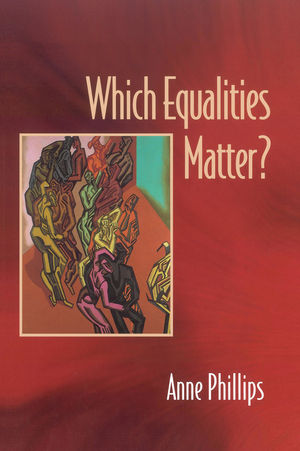 Which Equalities Matter?
ISBN: 978-0-745-66828-4
Jul 2013, Polity
168 pages
Description
Democracy and democratization are now high on the political agenda, but there is growing indifference to the gap between rich and poor. Political equalities matter more than ever, while economic inequality is accepted almost as a fact of life. It is the separation between economic and political that lies at the heart of this book.
Preface vii
1 Democracy and Equality 1
2 Taking Difference Seriously 20
3 Does Economic Equality Matter? 44
4 From Access to Recognition 74
5 Deliberation and the Republic 99
6 Equal Yet Unequal? 124
Notes 134
Bibliography 143
Index 149
'In this important intervention, Anne Phillips, with her customary clarity, reconnects the case for political and economic equality without sacrificing the political recognition of difference. It may not be a fashionable argument, but it is one which needs to be read and debated widely in the face of entrenched inequalities of material and political resources.'
Ruth Lister, University of Loughborough
'Anne Phillips has done it again! Which Equalities Matter? is at once a major theoretical contribution and a salutory political intervention.' Nancy Fraser, New School for Social Research

'In an age of growing inequality, Anne Phillips has written a timely and important book: a politically engaged, theoretically sophisticated, energetic and circumstantial argument for reversing the trend. Egalitarianism finds here a wonderfully lively and skilful defender.' Michael Walzer, Institute for Advanced Study in Princeton

'An important new book.' The Guardian

'[A] welcome contribution to current debates.' Journal of European Area Studies
* Equality (or rather: which inequalities matter?) is now returning to the agenda of academic and public debate.
* Outstanding, accessible book ranging over key contemporary theoretical and empirical issues.
* Well-known author making an original contribution, linking issues in political and social theory, feminist debates, multiculturalism and questions about minority rights.