Who's Afraid of Adam Smith?: How the Market Got Its Soul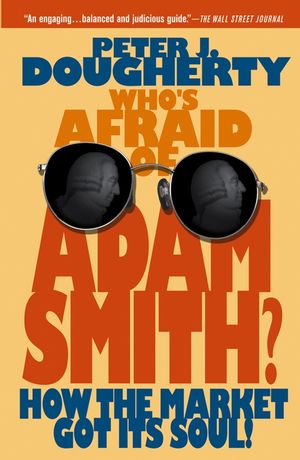 Who's Afraid of Adam Smith?: How the Market Got Its Soul
ISBN: 978-0-471-47177-6
Apr 2003
240 pages
Description
"Peter Dougherty does the near-impossible in this brilliant book . . . [he] makes economics engaging and accessible."
--Professor Larry J. Sabato, University of Virginia

In this spirited and timely book, Peter Dougherty shows how economists are drawing on Adam Smith's civic writings to illuminate how the market creates not only fiscal capital, but "social capital." Dougherty demonstrates how Smith's ideas are currently experiencing a renaissance. He then explores several impressive initiatives to demonstrate what today's theoretical and practicing economists are accomplishing in the spirit of Adam Smith's moral sentiments: the institutional reform of transitional and developing economies; the financing of new technological, medical, and educational initiatives; and the economic revival of cities. Capitalism pervades every aspect of our daily life. Peter Dougherty now offers a fascinating peek at its hidden soul.
1. Letter Man 1
2. The Instructions 21
3. The Warning 30
4. Little Platoons 36
5. Enlightenment Wonk 47
6. Soul Survivors 65
7. Dragon Slayers 85
8. Comeback Kid 109
9. Kitchen Chemists 123
10. Egg Men 148
11. Urban Outfitters 167
Epilogue: Go with the Flow 185
Notes 191
Bibliography 210
Index 215