Who's Got the Ball? (and Other Nagging Questions About Team Life): A Player's Guide for Work Teams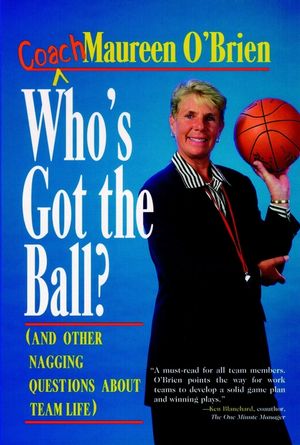 Who's Got the Ball? (and Other Nagging Questions About Team Life): A Player's Guide for Work Teams
ISBN: 978-0-787-90057-1
Apr 1995, Jossey-Bass
187 pages
Description
More than a fad, teaming is proving to be a new way of organizational life, with eight out of every ten employees now involved in some kind of teamwork. But how exactly does one play on a team at work? While there are plenty of manuals, trainers, and theories that help managers create, lead, and reward teams, actual team members are often left struggling without a handbook or a coach.

With refreshing clarity and common sense, Maureen O'Brien, a team expert with more than twenty years of experience as a player, coach, and business consultant, offers one-on-one coaching tips to team players in Who's Got the Ball? The author covers all the bases, from setting a team's goals and articulating its noble purpose, to banishing boring meetings, deciding how to make decisions, and even using flip charts effectively. Friendly and conversational, O'Brien offers experience-based, easy-to-implement guidelines that are eminently practical and surprisingly fun. Her concise coaching notes, wonderfully illustrated by real-life organizational situations, address every aspect of daily team life, including: creating a workable team structure * being a valuable team member * avoiding common teamwork traps * running an effective team meeting * making and implementing decisions * leading a team.

From developing a new team and determining just what kind of game your team is playing--individualistic baseball, interdependent basketball, or tightly orchestrated football--to dealing with personality-based conflicts, knowing when to take a time-out, and honoring a project's most valuable player, Who's Got the Ball? is an invaluable guide to surviving--and thriving--on today's work teams.
Preface xi
The Author xvii
Part One Team Fundamentals 1
Are You a Team? 3
What's Your Game? 5
What's Your Noble Purpose? 16
Are You Winning? 19
Human Doings Versus Human Beings 21
It's Just a Stage 23
What Does a High-Performing Team Look Like? 30
Your Team Is One Player in a Bigger Game 34
All High-Performing Teams Have Ground Rules 36
Part Two Being a Valuable Team Member 41
Who Is Responsible? 43
Every Player Contributes to the Process 47
Summarizer, Orienter, Harmonizer, and Other Helpful Roles 49
Recognize Your MVP 54
Get New Players into the Game 56
Take a Team Pulse 59
Words Don't Always Mean what They Mean 61
You Don't Have to Be Best Friends 65
Part Three Avoiding Common Team Problems 67
About Conflict 69
The Power of Constructive Negative Feedback 72
When You Reach an Impasse, Talk about Needs 78
Team Process Is Confidential 81
What Builds or Destroys Trust? 83
Manage Your Differences 86
Words Are Powerful 89
Don't Take It Personally 94
The Deadly Whack-A-Mo 96
Don't Confuse Interruptions with Enthusiasm 100
The Talk-A-Thon 104
Off Course and Down the Road of Totem Poles 108
"Hey, No Problem" 110
How the Great Elaborators Finally Got to the Point 113
Team Burnout 115
Simple but Powerful Team Ground Rules 118
Part Four Running an Effective Team Meeting 121
Spend Time Together 123
Agree on a Game Plan 125
Everyone Must Respond Out Loud 128
Call Your Own Time-Outs 131
All Ideas Aren't Good Ideas But 133
The Magic of Flip Charts 137
Meeting Minutes Made Easy 140
Part Five Making Good Team Decisions and Putting Them into Play 143
No Team Is Completely "Self-Directed" 145
What Decisions Is Your Team Empowered to Make? 148
Decide How You Will Decide 153
Brainstorming: Use It at the Right Time 156
Do Great Minds Really Think Alike? 159
Who's Got the Ball? 162
Part Six Notes for Team Leaders 165
Why Teams Get Stuck 167
Every Team Needs a Leader with Clout 171
Name That Decision 173
Invest in Your Team's Self-Concept 176
From Manager to Team Leader 180
How Successful Team Leaders View Their Role 182
How Winning Teams Describe Their Leaders 184
A Letter from the Coach 188
References 189
"Finally, a book for team members--three cheers for Coach O'Brien! Who's Got the Ball? is an easy, enjoyable, and invigorating book filled with powerful, useable, common sense coaching tips. This book should be required reading for all team members in today's workforce.'' --Freda M. Peters, vice president, Human Resources, Branson Ultrasonics Corporation, subsidiary of Emerson Electric Company

"Who's Got the Ball? is one of the best books on teaming that you will ever read--clear, insightful, humorous. An excellent handbook for any business or organization struggling and/or coping with breaking down barriers and building teams.'' --Hellene S. Runtagh, president & CEO, GE Information Services, Inc.

"Maureen O'Brien is the quintessential coach. She gives team members the confidence and motivation to play, helps us build a gameplan, shows us the moves, and cheers us on to victory.'' --Laura Northup, team member, General Electric