Who Rules Britain?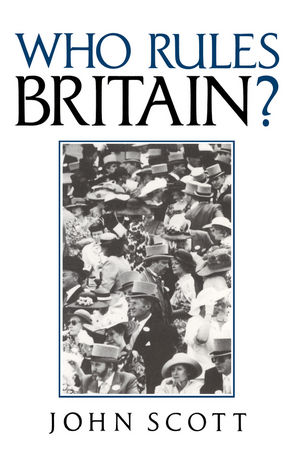 Who Rules Britain?
ISBN: 978-0-745-68782-7 April 2014 Polity 200 Pages
Description
The lifestyle, economic basis and political affiliations of the British upper class are the focus of this exciting new textbook. Combining a review of existing sociological theory on class and capitalism with material drawn from a great variety of sources it is likely to become a standard course text.
Examining the question of whether there is still a ruling class in Britain, John Scott presents an account of the historical development of the British upper class, the development of industrial and financial dynasties, town and country society as well as of London and the political world. Photographs and other illustrations cover subjects as diverse as public school fees, the structure of parliament, and the dates and events of the 'Season'.
Table of contents
List of illustrations VII
Acknowledgements IX
Introduction 1
1 What is a Capitalist Class? 7
The Orthodox Marxist View 8
The Fabian View 16
Burnham and the Managerial Revolution 19
Post-war Revisionism 20
The Capitalist Class Reconsidered 23
2 What is a Ruling Class? 25
Marx on the British Ruling Class 26
The Orthodox Marxist View 27
An Unorthodox Marxist View 29
The Power Bloc and the State 31
3 The Making of the Ruling Class 40
The Ancien Regime in Europe 41
The Old Society in England 44
The Transition to Modernity 57
4 Is there still a Capitalist Class? 63
Who are the Capitalists? 64
The Development of the Business Class 72
Contours of the Capitalist Class 80
Class Reproduction and Capital Reproduction 90
5 Is there still an Upper Circle? 93
The 'Traditional' Status System 93
'Tradition', Social Networks and Class Reproduction 106
6 Is there still a Ruling Class? 118
Power Elites and the Ruling Class 118
The Changing Anatomy of Political Rule 124
The Structure of Political Domination 139
Notes 153
Index 165
Reviews
'This is an excellent analysis of the changing contours of power in British society. John Scott is one of the most distinguished researchers of the British class structure ... a very useful analysis of the latest debates and empirical evidence.'
John Urry, Lancaster University
'A welcome and timely addition to a growing field of academic and general interest ... [it] will undoubtedly come to occupy a regular and prominent place on booklists in higher and further education through the 1990s.' David Coates, University of Leeds
'A challenging and very readableaccount.' THES
Features
This new textbook will become a standard course book for those interested in contemporary British society
Having written many other studies of a similar nature, John Scott is becoming an authority in the field
Clearly written Who Rules Britain? is made extremely accessible by extensive use of illustrations and diagrams.