Who You Know: Unlocking Innovations That Expand Students' Networks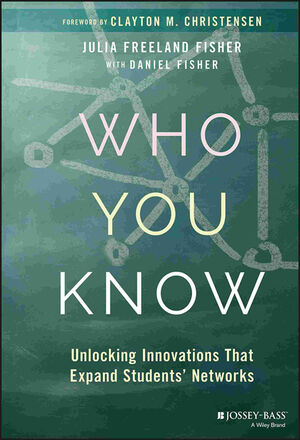 Who You Know: Unlocking Innovations That Expand Students' Networks
ISBN: 978-1-119-45293-5
Aug 2018
Product not available for purchase
Description
TOC:
INTRODUCTION
Who you know matters—so why do schools ignore students' networks? A strict focus on what students know has left a gaping blind spot in schools' wake. Schools need to embrace innovations that can nurture, expand, and diversify the web of relationships surrounding our young people. Luckily disruptive innovations are bringing these sorts of new connections within reach for schools and the students they serve.
CHAPTER 1: THE STATE OF AMERICA'S OPPORTUNITY EQUATION
By many accounts inequality is getting worse in America. Schools as they are currently structured do little to reverse that trend. Although education reformers have focused relentlessly on achievement gaps, where students live and how much money their parents make still remain strong predictors of success in school, college, and the workforce. In reality, opportunity is not just about acing tests—it is the sum of what we know and whom we know. If they hope to function as society's "great equalizer," schools must step in to mitigate growing network gaps young people face. As much as we need to improve instruction in schools, in equal measure we need to improve the relationships and networks that surround young people.
CHAPTER 2: GETTING BY, GETTING AHEAD: THE SCIENCE BEHIND SOCIAL CAPITAL
Researchers from economists, to sociologists, to political scientists tend to agree on the basic principle that who you know—both your strong connections and even your mere acquaintances—can matter quite a bit in lifelong success or failure. Decades of literature on social capital and relationship science lend insight into how exactly social capital operates and which relationships matter in which circumstances. Strong ties—with our inner most trusted circle of friends and family—provide us with care and trust and tend to look out for us. Weak ties—with those who may have different values and networks themselves—tend to expand our horizons and lend us new information and opportunities that our strong tie networks cannot. Both strong and weak ties, in other words, are critical to human progress. And for young people in particular, developmentally appropriate relationships along both dimensions are critical for the formation of identity. Based on these trends, schools can use research on how humans forge trusting connections to ensure that newly formed networks defy—rather than reinforce—the geographic, cultural, and socioeconomic barriers that otherwise tend to isolate students from new sources of care or opportunity.
CHAPTER 3: INNOVATIONS IN CONNECTING STUDENTS
New approaches to building students' social capital are not merely theoretical—they are starting to be a reality in schools. A small but growing group of entrepreneurs are showing that technology can connect kids in new ways that time and distance previously prohibited. This chapter will summarize data on over one hundred emerging tools that introduce students to relationships otherwise out of reach. Specifically these products are finding success in four market categories that parents and schools are prioritizing: tutoring tools, project-based learning curricula, college access and success services, and career exploration tools. With the right business models, these tools stand to disrupt the monopoly that neighborhoods have long held on young people's networks.
CHAPTER 4: THERE'S NO APP FOR THAT—SCALING CARING RELATIONSHIPS
Vocal critics of technology-enabled interactions are quick to point out that technology risks hollowing out our relationships, rather than strengthening them. In some circumstances these skeptics are absolutely correct. Young people still need reliable, in-person, caring relationships for everything from healthy brain development to an ongoing sense of security and love. To that end, some schools also need to incorporate strong, caring, in-person ties to support their highest need students. These efforts align to trends that innovation theory has long highlighted: across numerous industries, companies have managed to innovate by integrating across unlikely pieces of their value chain. This chapter will describe a number of school systems that have spent the past decade doing just that: investing in wraparound services and care in order to ensure that students are embedded in a healthy web of relationships at home and at school.
CHAPTER 5: REDESIGNING SCHOOL AS A CARING AND NETWORKING HUB
Schools are stuck in a bind. On the one hand, schools are ill-equipped to provide sufficient supports in school to students who need stronger caring relationships within school and at home. On the other hand, they are over-serving students with stringent academic credit, privacy, and safety policies that shut the real world—and a wide array of adults in it—out. In other words, schools need to become both more caring and more open environments, neither of which comes naturally to a bureaucracy. Still, with the rise of disruptive innovations, a number of schools are managing to straddle this tension. This chapter will highlight these new school models, and in particular look at the rise of "personalized learning" models that tailor supports to individual students and provide out-of-school academic and elective experiences that expose students to a wider array of relationships and social contexts.
CHAPTER 6: IF YOU BUILD IT WILL THEY CONNECT?
Watching the rush to technological progress in the 19th century, Thoreau observed, "We are in great haste to construct a magnetic telegraph from Maine to Texas; but Maine and Texas, it may be, have nothing important to communicate." Although technology is poised to help schools facilitate a whole host of new connections, what will actually motivate adults and students to participate in a more networked school system? To explore how to engage different participants in this new system, this chapter will analyze players through the lens of Clay Christensen's Jobs to be Done theory. This theory can help schools and entrepreneurs to understand the circumstances that drive students to invest in relationships, and likewise what might motivate working and retired adults to participate in a networked system that lends care, information, and advice to young people within and beyond their immediate communities.
CHAPTER 7: COLLEGE CONNECTED
Although this book focuses on how K-12 schools can transform into a networking hub, the higher education industry has—in some cases—made networks an overt aspect of its value proposition. What can K-12 education learn from the networks that some colleges privilege? Do we understand the circumstances that lead postsecondary students to successfully build their networks and how institutions of higher education can best absorb the costs of networking to support their students? This chapter will look at how colleges do and don't grow their students' social capital. It will also summarize market trends surrounding technology-enabled social networking tools currently used by colleges, universities, and corporations and analyze successful business models within those industries. [MAY BE BEST LEFT TO A SEPARATE WHITE PAPER]
CHAPTER 8: MENTORSHIP METRICS RECONSIDERED
As one researcher famously put it, social capital is "fiendishly difficult to measure; not because of a recognized paucity of data, but because we do not quite know what we should be measuring." This chapter will consider policy frameworks and metrics that will ensure deeper investment into expanding students' social capital, and the protections and quality control measures that will need to be in place. Specifically, it will consider how policies can ensure that connections remain relational rather than becoming transactional. Example policies include means-testing student networks, extended learning opportunity policies that award credit for outside-of-school experiences, and public-private partnerships to explore youth employment and mentorship efforts at scale.
CONCLUSION: MEETING THE DEMANDS OF A SHIFTING LABOR MARKET
Networks are an undeniable ingredient to opportunity, and a will be a growing feature of school as we know it. But the specific role that relationships play in opening up job opportunities is likely to shift as the labor market evolves. The concluding chapter will look at major shifts in the American labor market—such as the demands of the knowledge economy, trends in labor-capital substitution, growth of freelance work, and the so-called sharing economy—and will consider carefully how schools' focus on social capital will need to constantly evolve in light of these shifts.