Why America Needs a Left: A Historical Argument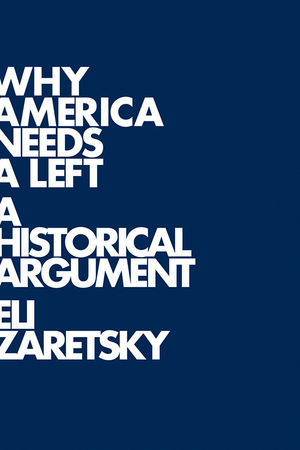 Why America Needs a Left: A Historical Argument
ISBN: 978-0-745-65656-4
Apr 2013, Polity
140 pages
Description
The United States today cries out for a robust, self-respecting, intellectually sophisticated left, yet the very idea of a left appears to have been discredited. In this brilliant new book, Eli Zaretsky rethinks the idea by examining three key moments in American history: the Civil War, the New Deal and the range of New Left movements in the 1960s and after including the civil rights movement, the women's movement and gay liberation.In each period, he argues, the active involvement of the left - especially its critical interaction with mainstream liberalism - proved indispensable. American liberalism, as represented by the Democratic Party, is necessarily spineless and ineffective without a left. Correspondingly, without a strong liberal center, the left becomes sectarian, authoritarian, and worse.

Written in an accessible way for the general reader and the undergraduate student, this book provides a fresh perspective on American politics and political history. It has often been said that the idea of a left originated in the French Revolution and is distinctively European; Zaretsky argues, by contrast, that America has always had a vibrant and powerful left. And he shows that in those critical moments when the country returns to itself, it is on its left/liberal bases that it comes to feel most at home.
Acknowledgments vii
Introduction: America's Three Great Crises and Three Lefts 1
1 Abolitionism and Racial Equality 16
2 The Popular Front and Social Equality 57
3 The New Left and Participatory Democracy 100
Conclusion: The American Left Today 159
Notes 171
Index 194
Winner of the Choice award for Outstanding Academic Title
"For those disenchanted citizens who have watched, open-mouthed, as America's national politics have boon increasingly over-run with unabashed hypocrisy, this book will be a small current of fresh air showing the 'influence an intransigent minority can exert on a relatively passive majority'. Hopefully, this book will also be read as an impetus to serious political engagement and a return to participatory democracy in a post-
Citizens United
America."
LSE Politics Blog
"Eli Zaretsky's 1976 book
Capitalism, the Family, and Personal Life
had a major impact on my generation of feminist thinkers. Now, with
Why America Needs a Left
, he reaches out to a new generation of activists, offering a brilliant analysis of the role of radicals in keeping America true to its noblest vision of itself. Historically sweeping and open to all sources of insight from pop culture to political theory, this book is a great pleasure to read. It's also a brave and timely call to a fresh era of struggle for social and economic justice."
Barbara Ehrenreich
"An exciting and necessary book for anyone interested in the history and future of US politics. Eli Zaretsky has written a sophisticated essay on the significance of the US left, one which is, at the same time, alert to historical contingency and rich with empirical insights."
Michael Kazin, Georgetown University
"Eli Zaretsky explores the historical relationship between the left and liberalism in the United States. While some historians dismiss the very notion of an American left, Zaretsky argues that it has made a profound impact on American political life."
Boston Review