Why CRM Doesn't Work: How to Win by Letting Customers Manange the Relationship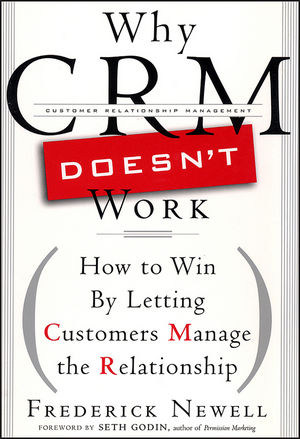 Why CRM Doesn't Work: How to Win by Letting Customers Manange the Relationship
ISBN: 978-0-470-88480-5
May 2010
263 pages
Description
CRM was supposed to help businesses better understand their customers and increase efficiency. Yet most companies are not getting the return they expected. Is it possible to make customers happy and, at the same time, improve ROI? Is there a practical, affordable way to get customers to say what they really want?  

In Why CRM Doesn't Work, leading international marketing consultant Frederick Newell explains why it's time to change the game to CMR (Customer Management of Relationships). CMR allows companies to empower customers so they'll reveal what kind of information they want, what level of service they want to receive, and how to communicate with them--where, when, and how often. It is a bold solution for businesspeople at all levels in all industries who want to stay ahead of the curve in the development of customer loyalty.  

Newell shows by lesson and example why the current CRM isn't working, what needs to change, and how to put the CMR philosophy to work--without additional expense. The book includes case studies of good and bad relationship marketing from companies as diverse as Kraft Foods, Procter & Gamble, Budweiser, Charles Schwab, Dell, IBM, Lands' End, Sports Authority, Radio Shack, and Staples.  

With the knowledge in this book, a company can learn to build long-term relationships and bring in profits instead of relying on one-time sales. Why CRM Doesn't Work is important reading for companies of every size that are trying to satisfy and sell to today's consumer.
Foreword (Seth Godin).
Preface.  

PART I: WHAT'S NOT WORKING.

1. Why Doesn't CRM Work?
Does the customer really want to be managed?

2. It's Not a Question of the Chicken or the Egg.
It's not technology that drives relationships.

3. "One Girl in a Convertible . . .". 
It takes more than a database.

4. Why Do We Have Two Ears and Only One Mouth?
The importance of dialog.

PART II: WHAT NEEDS TO CHANGE.

5. It's No Longer Good Enough to Ask Forgiveness Rather Than Permission.
One person's relevance is another person's intrusion.

6. Permission in Action.
The Internet as a permission-only zone.

7. Type, Point, Click, and Send Now.
Cheaper and faster than a letter, less intrusive than a phone call, less hassle than a fax.

8. Who's Minding the Store?
CMR is not about how you look at customers—it's about how customers look at you.

9. Personalization Technology—Boon or Bust? 
Empowering the customer requires more than just personalization.

10. But What About the Loyalty Card?
Does CMR mean the end of traditional loyalty marketing?

11.  No Card? No Problem!
Customers tell us a lot without volunteering personal information.

12. All Cows Look Alike.
Brand building—it begins and ends with the customer.

Part III: HOW TO CHANGE.

13. Before You Build a Better Mousetrap.
Is CMR for everyone?

14. Customer Service—Who Cares?
CMR doesn't mean "best customer service" for everyone.

15. Which Customers and Why You can't make everyone happy.

16. Crossing the Chasm—What Will You Need to Change?
Eight steps to CMR success.

17. There's No Free Lunch.
But CMR should not be an added expense.

18. Don't Boil the Ocean.
Be wary of the big-bang approach.

Part IV: A LOOK AHEAD.

19. There's No There, There.
Can customer relationships survive Internet ubiquity?

20. Electronic Empowerment.
How will electronics revolutionize customer communication?

21. What Do Customers Want from Mobile Messaging?     
Do customers really want to order groceries while driving home from work?

22. Will Wall Street Care?
Relationships as a corporate asset.

Conclusion.
Afterword .
Notes.
Index.