Why Didn't I Think of That?: Bizarre Origins of Ingenious Inventions We Couldn't Live Without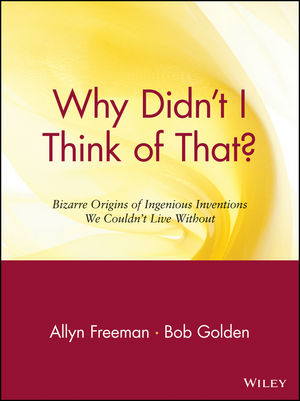 Why Didn't I Think of That?: Bizarre Origins of Ingenious Inventions We Couldn't Live Without
ISBN: 978-0-471-16511-8 September 1997 256 Pages
Description
Ben & Jerry originally wanted to start a bagel business, but they couldn't afford the bagel-making machine?
* The Slinky(r) toy was born aboard a World War II battleship?
* Band-Aids(r) were invented by a husband to help his accident-prone wife dress her own cuts and bruises at home?
* The idea for Velcro(r) came from cockleburs that got stuck on an engineer's wool trousers and in his dog's fur?

Ever wonder how anyone came up with the idea for a product you couldn't imagine living without? Familiar products like Velcro(r) ,disposable diapers, Post-It Notes(r) ,and coffee filters. Read this book and you'll discover - once more - that truth is indeed often stranger than fiction. You'll also see that coming up with a million-dollar idea isn't as difficult as you think. This collection of entrepreneurs ranges from housewives to PhDs.

Filled with wacky and fascinating facts, awe-inspiring success statistics, and rags-to-riches stories, Why Didn't I Think of That? chronicles the odd origins behind 50 famous inventions and reveals the business side of each product's actual production, marketing, and distribution. You'll discover how inventors from all walks of life struck it rich with unlikely contraptions that range from the practical (like Tampax(r) and Tupperware(r) ) to the curiously inane (like the Barbie(r) doll and Silly Putty(r) ).

Inspirational, detailed, and always quirky, this delightful book captures all of the drama and colorful history of products like Heinz(r) ketchup, The Club(r) , Jell-O(r) ,Hallmark(r) cards, Trojan(r) condoms, Vaseline(r) , Rollerblades(r) , Kitty Litter(r) , the Swiss Army(r) Knife, Bic(r) pens, Dirt Devil(r) , Pampers(r) , S.O.S(r) pads, and many more.
Introduction ix
1 Grounds For Success 1
Melitta, Inc
2 World on a String 5
Duncan Yo-Yo
3 Party Time! 10
Tupperware
4 Nature's Purifier 16
Ex-Lax
5 Male-Bonding 20
Elmer's All-Purpose Glue
6 $afe $ex 25
Trojan Condoms
7 Big Red 31
Heinz Ketchup
8 Make No Mistake 36
Liquid Paper
9 Tabby Toilet 41
Kitty Litter
10 A Peaceful Period 46
Tampax
11 The Wright Stuff 51
Silly Putty
12 Medical Coverage 56
Band-Aid
13 In the Cards 60
Hallmark, Inc.
14 Indoor Ski Sensation 65
Nordictrack
15 Thou Shalt Not Steal 70
The Club
16 The Cutting Edge 74
Cuisinart, Inc.
17 Wonder Jelly 78
Vaseline
18 Silence Is Golden 83
Midas
19 Mini Master Builders 87
Lego
20 Let the Games Begin 91
Trivial Pursuit
21 In-Jean-ious 95
Levi Strauss & Company
22 Get a Grip 99
Velcro
23 Wheels of Fortune 104
Rollerblades, Inc.
24 Clean Sweep 109
The Dirt Devil
25 Billion Dollar Dolly 113
Barbie
26 Lovin' Spoonful 117
Jell-O
27 Pen Pal 122
Bic
28 The Color of Money 126
Clairol
29 Some Like it Hot 131
Tabasco Sauce
30 Spring Fever 136
Slinky
31 Running Hot and Cold 141
Thermos
32 Little Vittles 146
Gerber
33 Stock Stuffer 151
L'Eggs
34 In the Chips 156
Frito Lay
35 Bottoms Up 162
Pampers
36 Easy Listening 167
Beltone
37 Pads of Glory 172
S.O.S.
38 The Yellow Pages 176
Post-It-Notes
39 Little Dipper 180
Dixie Cups
40 House of Wax 185
Crayola
41 The Candy Man 190
Tootsie Roll
42 A Stitch in Time 194
Singer Sewing Machine
43 Home Cooking 199
Boston Market
44 Current Success 203
Jacuzzi
45 The Chairmen 207
La-Z-Boy
46 Morning Star 211
Kellogg's Corn Flakes
47 Slice of Life 216
Swiss Army Knife
48 Hill of Beans 220
Starbucks
49 The Bill Chill 225
Ben & Jerry's Ice Cream
50 Pocket Book 231
Filofax
Acknowledgments 235
Bibliography 237
Index 239