Why Do We Educate?: Renewing the Conversation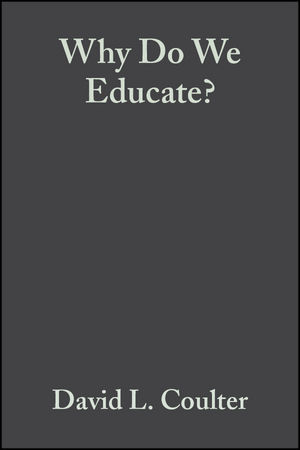 Why Do We Educate?: Renewing the Conversation
ISBN: 978-1-444-30721-4 April 2009 Wiley-Blackwell 200 Pages
Description
This book reflects the editors; concerns that too many public discussions of education are dominated by too few ideas, and is intended to serve as a kind of handbook for those who wish to enter the conversation about education
A work of impressive scholarship accessible to the general reader
A unique collection of essays written by internationally recognized and emerging thinkers from the field of education and related disciplines
Contributors, among others, include Anthony Appiah (Princeton); Seyla Benhabib (Yale); Eamonn Callan (Stanford); Joseph Dunne (St. Patrick's College, Ireland); Kieran Egan (Simon Fraser); Ursula Franklin (Toronto); Nel Noddings (Stanford); Martha Nussbaum (Chicago) and Diane Ravitch (New York)
Series Editor's Foreword (
Gary D Fenstermacher
).
Acknowledgments.
1. Prologue: Renewing the Conversation (David Coulter & John R. Wiens).
Part One: Loining the Conversation.
2. Education and Schooling: a Relationship that Can Never be Taken for Granted (Ken Osborne).
3. Education and Democracy: The United States of America as a Historical Case Study (Diane Ravitch).
4. Education for a Flourishing Life (Harry Brighouse).
Part Two: Creating Common and Uncommon Worlds.
5. American Democracy, Education, and Utopianism (Eamonn Callan).
6. Education for Global Citizenship (Kwame Anthony Appiah).
7. L'affaire du Foulard (The Scarf Affair) (Seyla Benhabib).
8. Deliberative Democracy and Civic Education (Lars Løvlie).
Part Three: Horizons of Significance.
9. Culture and Education (Sonia Nieto).
10. Democratic Citizenship and the Narrative Imagination (Martha C. Nussbaum).
11. Teaching Natural Science in the Twenty-first Century: Opportunities and Dangers (Ian Winchester).
12. The Role of Mathematics in Education for Democracy (Deborah Loewenberg Ball & Hyman Bass).
13. Spirituality and Religion in Public Schooling (Nel Noddings).
14. Education and Economic Development (Randall Nielsen & Janice Kinghorn).
15. Giving the Body its Due: Autobiographical Reflections and Utopian Imaginings (Joannie Halas & Jeanne Adele Kentel).
16. Indigenous Knowledge Systems and Education (Ray Barnhardt and Angayuqaq Oscar Kawagley).
17. Educating at the Interface of Biosphere and Bitsphere (Ursula M. Franklin).
Part Four: Imagining and Becoming: Education as Lifelong and Lifewide.
18. Education and Childhood (Joseph Dunne).
19. Educating Adolescents (Kieran Egan).
20. Some Educational Implications of Adulthood (Gary D Fenstermacher).
21. Epilogue: Democratic Eruptions (John R. Wiens & David Coulter).
A work of impressive scholarship accessible to the general reader

A unique collection of essays written by internationally recognized and emerging thinkers from the field of education and related disciplines

Contributors, among others, include Anthony Appiah (Princeton); Seyla Benhabib (Yale); Eamonn Callan (Stanford); Joseph Dunne (St. Patrick's College, Ireland); Kieran Egan (Simon Fraser); Ursula Franklin (Toronto); Nel Noddings (Stanford); Martha Nussbaum (Chicago) and Diane Ravitch (New York)