Why Don't You Want What I Want?: A Download from The 2004 Pfeiffer Annual (Volume 2, Consulting)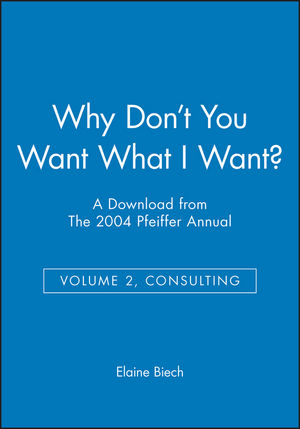 Why Don't You Want What I Want?: A Download from The 2004 Pfeiffer Annual (Volume 2, Consulting)
ISBN: 978-0-787-97327-8
Apr 2004, Pfeiffer
Description
At times, knowing how to increase support and minimize resistance can be extremely challenging. In this targeted 6-item assessment, participants will begin to understand that when they attempt to influence others, they need support at three levels:
Level 1 focuses on understanding. Do people ?get? it or don?t they?
Level 2 focuses on the emotional reaction people have to the idea itself. Do they like it or dislike it?
Level 3 focuses on the participants relationship with the other person or group. Do they have trust and confidence or don?t they?
Includes scoring instructions and follow-up instructions. Contributed by Rick Mauer.


Important Information to Review Before Making This Download Purchase
Before purchasing a Pfeiffer Download, you will need Adobe® Acrobat® Reader® Software. If you do not already have it installed on your computer, you may download this free software from the Adobe Web site at Adobe.com.
All Pfeiffer Downloads that you purchase from this site will come with specific restrictions that allow Pfeiffer to protect the copyrights of its products. Just before completing your purchase, you will be prompted to accept our License Agreement. If you do not accept the parameters of this agreement, your credit card will not be charged and your order will be cancelled.