Why Feminism?: Gender, Psychology, Politics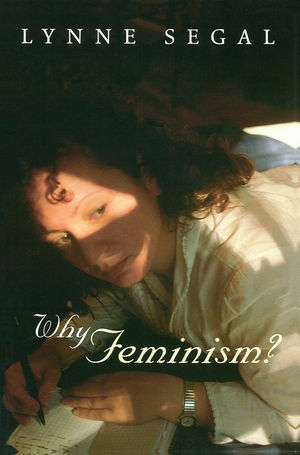 Why Feminism?: Gender, Psychology, Politics
ISBN: 978-0-745-62347-4 November 1999 Polity 296 Pages
Description
This major new book explores the peculiar place of feminism in contemporary culture.
Preface.
Introduction: Why Feminism?.
1. Generations of Feminism.
2. Gender to Queer, and Back Again.
3. Genes and Gender: The Return to Darwin.
4. Psychic Life and its Scandals.
5. Gender Anxieties at the Limits of Psychology.
6. Cautionary Tales: Between Freud and Feminism.
7. Only Contradictions on Offer: Feminism at the Millennium.
Notes.
Index.
'
Why Feminism?
remakes the case for a dynamic feminism that rejects pessimism and becomes once again a "movement of transformation", able to liberate both sexes from the tyrannies of labour, of fear and, of course, gender. She looks at younger women struggling to Have It All, and the fears daily expressed for and about men and boys, and believes she just might have a few suggestions. It's a grim comment on the times that so few powerful people want to know.'
The Guardian
'Her thesis is immediately engaging in its refusal to apply itself to the red herrings: Is feminism still relevant? Are men in crisis? Is feminism dead? Who cares? ... We've become used to texts that are saturated with easy-access pop-cultural reference points. But Segal is good at asking the right questions of the right people ... it's liberating to read a book that makes no apology for dignifying the Women Question with a serious academic inquiry.' The Guardian

'Lynne Segal is one of the most capacious readers of feminism and sexuality studies I have ever encountered. Rooted in a socialist feminism and open to new theory, she brings forward the best of the former tradition and sets it into a dynamic and provocative dialogue with contemporary scholarship and activism, including psychoanalysis in both its social and clinical dimensions. Her writing is marvellously clear, to the point, and trenchant. And she brings us all into a critical conversation that we sometimes did not know we could have. The passion, intelligence, and intellectual candour of this book are exemplary.' Judith Butler, Maxine Elliot Professor of Rhetoric and Comparative Literature, University of California at Berkeley

'Lynne Segal brings her unique capacity for clarity and wit, along with her courage of the intellect, to bear on the key paradox faced by feminists: how to hold on to what being a woman means, while contesting the cultural and social meanings given to 'femininity'. This is a book which travels between disciplines with remarkable erudition, providing concise and intelligent accounts of the context of debates in women's studies, queer theory, sociobiology, psychoanalysis and psychology. It is as illuminating on genetics as it is on gender.' Sheila Rowbotham, University Research Fellow in Sociology, Manchester University

'In this provocative history of the changing face and fortunes of feminism since the 1970s, Lynne Segal gives us a vivid account both of feminist debate and its increasingly conservative context. Rejecting the dualistic thinking which pits activism against theory, Segal argues persuasively both for the reinvigoration of feminism's political will and its continuing exploration of subjectivity and difference.' Cora Kaplan, University of Southampton

'An ambitious and timely assessment of the shifts in feminist thinking over the last half century, taking in queer theory, post-structuralism, and psychotherapy. She rocks.' Libby Brooks, The Guardian

'She writes in an engaging and accessible manner, and I enjoyed reading this book.' The Psychologist

'In a strong argument for socialist feminism, Lynne Segal engages with an impressive breadth of literature and analyses inter- and intradisciplinary debates encompassing biology, sociology, psychology, psychoanalysis, as well as gender, feminist and queer theory ... Her wide-ranging, clear and incisive accounts of theoretical developments are always to be welcomed and provide an indispensable guide to diverse strands of feminist thought.' Journal of European Area Studies


'How very useful her book will be to those who want to learn about the debates as they have developed and continue. It is extraordinarily knowledgeable.' Radical Philosophy

'It provides an excellent introduction (and more) to what are arguably the most important debates and practices relating to gender across, within and between the global, national, local, interpersonal and intraperson 'levels' at the present time.' Feminist Theory

'Segal's book provides an engaging discussion of the historical and contemporary issues for feminist activism and for general feminist scholarship.' Feminism & Psychology
*A comprehensive and lively exploration of feminism in the contemporary world.
* Examines the shifts in feminist thinking from the emergence of woman's Liberation through to the present day.
* Provides a vigorous defence of feminism but criticizes some of more 'fashionable' accounts of gender relations.
* Written by an extremely well- known author who has written many significant and successful books in this area.