Why I Love Barthes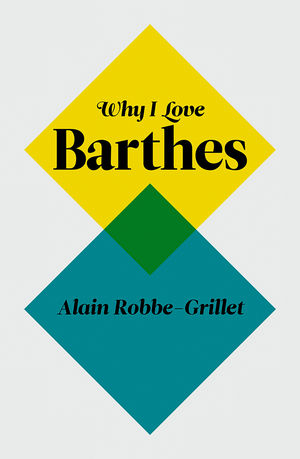 Why I Love Barthes
ISBN: 978-0-745-65078-4 October 2011 Polity 80 Pages
Description
The literary friendship between Alain Robbe-Grillet and Roland Barthes lasted 25 years. Everything attests to their deep and mutual intellectual esteem: their private correspondence, their published texts, their conversations - notably in the famous dialogue which gives its name to this work. Robbe-Grillet freely said he had very few true friends but, next to the publisher Jérôme Lindon, he always cited the name of Roland Barthes. In 1980, he wrote his own 'I love, I don't love', published here for the first time, thinking about his friend. In 1985, he predicted: 'It is his work as a writer which will remain'. Ten years later, in 1995, he imagined him as an impatient, blithe novelist, merrily rewriting - 'euphorically, with inexhaustible happiness' - The Sorrows of Young Werther.

This small collection of conversations and short texts by Robbe-Grillet is like the deferred echo of those that Roland Barthes dedicated to him in his Critical Essays in 1964. It offers fresh insight into the development of Robbe-Grillet's own work as well as that of Barthes, and is a unique testimony to one of the most important literary friendships of our time.

Foreword by Olivier Corpet vii

Why I love Barthes, 1978 1

Roland Barthes's choice, 1981 51

Yet another Roland Barthes, 1995 61

I like, I don't like, 1980 77

Translator's Notes 81
"The warmth of friendship between the two is palpable, with some comic teasing: 'Roland speaks quietly,' Robbe-Grillet says. 'I don't speak quietly,' Barthes objects. 'You don't speak quietly,' his friend ripostes, 'but you take the precaution of always having a cigarette between your lips, which, as you know [...] doesn't allow you to shout things out.' The modern literary event-goer wonders melancholically: où sont les Gitanes d'antan?"
Steven Poole, The Guardian
"The book's arrival in English should be embraced as a challenge to the many reductions of 'French theory' to a mausoleum of movements, -isms, and masterable ideas. A disapporving critic once called Barthes the Pierre Laval to Robbe-Grillet's Marshal Pétain, but this volume shows them to be eels - not quite a pair, not easy to catch, but always electric."
Times Literary Supplement
"The image of Robbe-Grillet lying in the bath reciting texts by Barthes that he has learned by heart is only one of many unexpected delights of this extremely engaging little book. The dialogue between Barthes and Robbe-Grillet at Cerisy - friendly fencing - teaches much about each of them."
Jonathan Culler, Cornell University
"Robbe-Grillet describes his friendship with Barthes as a literary love affair without intimacy: 'un certain type de rapport amoureux'. This paradox is traced in its complexity and mystery through the four brief texts of this collection in which the novelist explores the different phases of his relationship with his most eminent critic, laying bare their shared vulnerability and fragility in a way which compels the reader's attention."
Christina Howells, University of Oxford
This is a unique testimony to one of the most important literary friendships of our time. Robbe-Grillet, the master of the nouveau roman, considered Barthes, France's greatest postwar literary theorist and critic, as one of his very few true friends.
Throughout their 25-year-long friendship, Alain Robbe-Grillet and Roland Barthes showed their mutual intellectual esteem in private correspondence, published texts and conversations.
This book consists of an extended dialogue between Barthes and Robbe-Grillet. It also contains three short texts by Robbe-Grillet which reflect on Barthes, his work and their friendship.
This will appeal to all those interested in contemporary literary and cultural theory, followers of the work of Barthes, and students and scholars of contemporary literature.