Why Love Hurts: A Sociological Explanation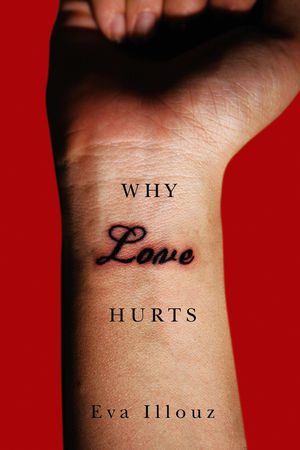 Why Love Hurts: A Sociological Explanation
ISBN: 978-0-745-67211-3 May 2013 Polity 304 Pages
Description
Few of us have been spared the agonies of intimate relationships. They come in many shapes: loving a man or a woman who will not commit to us, being heartbroken when we're abandoned by a lover, engaging in Sisyphean internet searches, coming back lonely from bars, parties, or blind dates, feeling bored in a relationship that is so much less than we had envisaged - these are only some of the ways in which the search for love is a difficult and often painful experience.

Despite the widespread and almost collective character of these experiences, our culture insists they are the result of faulty or insufficiently mature psyches. For many, the Freudian idea that the family designs the pattern of an individual's erotic career has been the main explanation for why and how we fail to find or sustain love. Psychoanalysis and popular psychology have succeeded spectacularly in convincing us that individuals bear responsibility for the misery of their romantic and erotic lives. The purpose of this book is to change our way of thinking about what is wrong in modern relationships. The problem is not dysfunctional childhoods or insufficiently self-aware psyches, but rather the institutional forces shaping how we love.

The argument of this book is that the modern romantic experience is shaped by a fundamental transformation in the ecology and architecture of romantic choice. The samples from which men and women choose a partner, the modes of evaluating prospective partners, the very importance of choice and autonomy and what people imagine to be the spectrum of their choices: all these aspects of choice have transformed the very core of the will, how we want a partner, the sense of worth bestowed by relationships, and the organization of desire.

This book does to love what Marx did to commodities: it shows that it is shaped by social relations and institutions and that it circulates in a marketplace of unequal actors.
Acknowledgments vii
1 Introduction: The Misery of Love 1
2 The Great Transformation of Love or the Emergence of Marriage Markets 18
3 Commitment Phobia and the New Architecture of Romantic Choice (with Mattan Shachak) 59
4 The Demand for Recognition: Love and the Vulnerability of the Self 109
5 Love, Reason, Irony 156
6 From Romantic Fantasy to Disappointment 198
7 Epilogue 238
Notes 249
Index 282
Winner of the 2014 ASA 'Sociology of Emotions Recent Contribution Award

"A bold, thought-provoking book."
Times Higher Education

"An important book … full of arresting ideas about love in our time"
Los Angeles Review of Books

"A significant achievement, a major analysis of love and an important contribution to sociology. It deserves to have a wide readership wherever love is."
The Australian

"A valuable and much needed contribution to the Western discussion of how emotions and capitalism influence each other."
KULT_Online

"An insightful attempt at tackling the timely and difficult question of the relationship between romantic suffering and (post)modernity."
FWSA Blog

"Illouz interrogates the travails of modern love and charts a course through the emotional geography of contemporary feeling … [This book] will surely prove to make a valuable contribution as an addition to student reading lists, both for the ideas that it puts forward and for the lively debate and heart-felt discussion that it will generate among both women and men."
LSE Review of Books

"Like any sociologist worth her salt, Illouz pushes readers to consider how our experience of love might largely be created by the kind of society we live in. Tracing a sort of history of emotions through archives and literature since the Regency era, she argues that in earlier times people's feelings about love and sentiment were quite different from those we take as self-evident ... It is not our own fault love hurts, Illouz tells us; it is inherent to our modern condition."
Inside Story

"Why Love Hurts is a tour de force, a thrilling read. Unseating the primacy of individual psychology as the reigning explanation for the travails of modern love, and demonstrating the profoundly social nature of our most intimate feelings, Eva Illouz etches a whole new emotional atlas."
Laura Kipnis, Northwestern University, and author of Against Love: A Polemic
"Eva Illouz's Why Love Hurts is brilliant - the indispensable book on the social power and meaning of sex and love. And with a bonus: it cuts to the core of the modern emotional condition, all told."
Todd Gitlin, Columbia University
"Eva Illouz's enormous talent to interpret vast empirical material from interviews, statistics, magazines, and novels with sociological imagination and philosophical understanding leads to striking and well-grounded results, such as the increasingly important role of sexiness and physical attraction in choosing mates. A milestone in the investigation of changing patterns of love and marriage."
Axel Honneth, University of Frankfurt and Columbia University
"In this bold and ground-breaking book Eva Illouz argues that there is something qualitatively new in the modern experience of romantic suffering. Readers may not agree with all of Illouz's hypotheses, but none will fail to be provoked by them - and in so doing be forced to challenge their own assumptions about love and modern life itself."
Susan Neiman, Director of the Einstein Forum and author of Moral Clarity: A Guide for Grownup Idealists
"Recently named one of the most important thinkers of the future by German newspaper Die Zeit, Illouz could very well be the twenty-first century's next great public intellectual."
Guernica: A Magazine of Art & Politics
"No one will be able to discuss love without referring to this book."
Die Zeit
A new book by the award-winnning sociologist Eva Illouz on modern love.
Sets out to explain why love is such a painful experience for many people - why we invest so much in the search for love and why it so often disappoints us.
She gives a persuasive answer to this question by showing how love, and the hopes, expectations and desires associated with it, are shaped by broader social relations, institutions and forms of power.
This is a brilliant, original and beautifully written book aimed at and accessible to a general reader. It will also be of great interest to students and scholars in sociology, gender studies and the social sciences and humanities generally.