Why We Hate Politics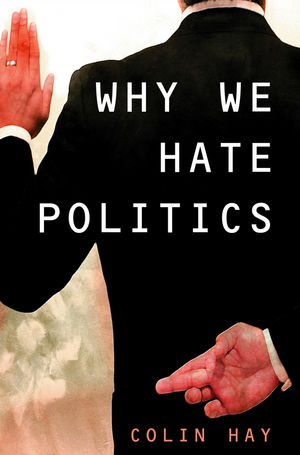 Why We Hate Politics
ISBN: 978-0-745-65741-7 April 2013 Polity 200 Pages
Description
Politics was once a term with an array of broadly positive connotations, associated with public scrutiny, deliberation and accountability. Yet today it is an increasingly dirty word, typically synonymous with duplicity, corruption, inefficiency and undue interference in matters both public and private. How has this come to pass? Why do we hate politics and politicians so much? How pervasive is the contemporary condition of political disaffection? And what is politics anyway?
In this lively and original work, Colin Hay provides a series of innovative and provocative answers to these questions. He begins by tracing the origins and development of the current climate of political disenchantment across a broad range of established democracies. Far from revealing a rising tide of apathy, however, he shows that a significant proportion of those who have withdrawn from formal politics are engaged in other modes of political activity.

He goes on to develop and defend a broad and inclusive conception of politics and the political that is far less formal, less state-centric and less narrowly governmental than in most conventional accounts. By demonstrating how our expectations of politics and the political realities we witness are shaped decisively by the assumptions about human nature that we project onto political actors, Hay provides a powerful and highly distinctive account of contemporary political disenchantment. Why We Hate Politics will be essential reading for all those troubled by the contemporary political condition of the established democracies.
Table of contents
List of Figures and Tables vi
Preface and Acknowledgements viii
1 Political Disenchantment 1
2 Politics, Participation and Politicization 61
3 The Domestic Sources of Depoliticization 90
4 The Global Sources of Depoliticization 123
5 Why Do We Hate Politics? 153
Notes 163
References 169
Index 180
Reviews
"Hay's deeply interesting book is a splendid alchemy of detailed academic political science."
The Guardian
"This is, without reservation, a powerful, ambitious and provocative text that is destined to become a classic book in the field of political science."
Matthew Flinders, British Politics
"A fascinating and well-written account which seeks to illuminate, and then diagnose, the problem of declining political participation in advanced liberal democracies ... Hay's book is not only well written and well balanced; it asks all of the right questions."
Australian Journal of Political Science
"A well written and thoughtful contribution to the debate on declining levels of interest in conventional politics."
Sociology
"Hay's argument is both intriguing and cogent. [A] highly valuable and innovative account."
Political Studies Review
"All reflective public managers should contend with Colin Hay's arguments."
Public
"Hay's book sharply identifies the corrosive consequences of government attempts to evade the problem of public political engagement. It therefore provides a good way into understanding the complex relationships between the ideas and assumptions we project on to politics and the resulting practices and processes."
Spiked
"This is a superb, high-quality piece of academic research. There is real intelligence at work, being applied to big important problems. Colin Hay makes his arguments cleanly, without making unnecessarily heavy weather of them. He is judicious in his use of evidence, with his tables invariably making telling points. His 'summary lists' capture the structures of the arguments elegantly and accurately. Intellectually, it's a wonderful book."
Robert E. Goodin, Australian National University
"Although written in a different era, and in a different disciplinary climate, the obvious comparison is with Crick's In Defence of Politics. Like that book, it is guided by a real moral vision that uplifts the practice of politics. Technically it also resembles Crick in simultaneously addressing the beginning reader and the case hardened teacher and practitioner. It is wonderfully clear and direct throughout, but never shirks the analysis of complex data."
Michael Moran, University of Manchester
"In this challenging, original and wide-ranging study Colin Hay provides a searching examination of the reasons for political disaffection and disengagement, arguing that we should resist the trend to take the politics out of politics. By depoliticizing the ways in which we govern our societies, we lose the capacity to change them. This book should be read by everyone concerned with how to renew our politics and re-engage our citizens."
Andrew Gamble, University of Sheffield
Features
An original and illuminating analysis of current trends in contemporary politics.

A brilliantly written text which is likely to become a minor classic in the field.

Examines and explains current levels of disengagement and apathy towards politics and politicians.

Genuinely international and comparative in focus.

Written with clarity and verve by a very well respected scholar.