Why Women Mean Business + How Women Mean Business Set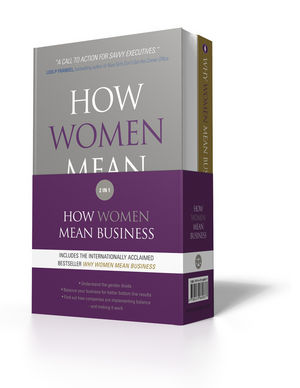 Why Women Mean Business + How Women Mean Business Set
ISBN: 978-0-470-66987-7 June 2010 798 Pages
Description
This 2 in 1 set includes the internationally acclaimed bestseller
Why Women Mean Business
and the new follow-up book
How Women Mean Business. 
Armed with both these books you will discover why business needs to change and how you can achieve a healthy and profitable balance. 
• Understand the gender divide
• Balance your business for better bottom line results
• Find out how companies are implementing balance – and making it work
Praise for Why Women Mean Business


"...gives example after example of the price that we all pay for a situation in which 'women may hold the keys but men still control the locks'."   The Times
"What's especially valuable is the authors' analysis of where companies go wrong in managing women...that's how it will help women in the workplace." Harvard Business Review
"Lays out the importance of retaining women in senior leadership positions."   Harpers Bazaar
"Wittenberg-Cox and Maitland have opened new ground."   Management Today
Praise for How Women Mean Business
"A call to action for savvy executives." Lois P Frankel, PhD, bestselling author of Nice Girls Don't Get the Corner Office.
"Understanding the why of gender balance is easy, the real challenge is implementing the how across a business. This book shows the reader how to do it, step by pragmatic step." John J. Harris, Chairman and CEO, Nestlé Waters
"This book is the best overview of the extraordinary business opportunity women represent." Julie Gilbert, Founder and CEO, Wolf
"How Women Mean Business is a must-read for any manager." Emilio Umeoka, President, Microsoft Asia Pacific
"How Women Mean Business sets out a compelling blueprint for better business practices in the 21st century." Cherie Blair
"A must-read for any leader wanting to use gender differences as a strategic lever to develop their business." Jean-Pascal Tricoire, President and CEO, Schneider Electric