Wii For Dummies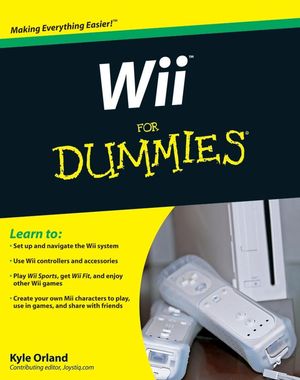 Wii For Dummies
ISBN: 978-0-470-87255-0
Mar 2010
336 pages
Description
Just got a Nintendo Wii game console? Thinking about one? Wii offers video games, exercise tools, the opportunity to create a cool Mii character, and lot of other entertainment options. Wii For Dummies shows you how to get the most from this fun family game system.

This book shows you how to get physical with Wii Sports, turn game time into family time, make exercise fun with Wii Fit, and discover Wii's hidden talents, like displaying photos and browsing the Web. You'll learn how to:
Hook up the Wii to your TV, home entertainment setup, or high-speed Internet connection
Get familiar with Wii's unique controllers and learn to use the Nunchuk, Balance Board, Wheel, and Zapper
Explore the Wii Channels where you can shop for new games, play games online, check the news, and even watch videos
Create Mii avatars you can share, enter in contests, and use in games
Learn to use your whole body as a controller and get fit while you play
Identify the best games for parties, family events, nostalgia buffs, and even non-gamers
Build your skill at Wii tennis, golf, baseball, bowling, and boxing
Use the Wii Message Board and full-featured Web browser
With tips on choosing games, hot Wii Web sites, how to enjoy photos and slideshows on your Wii, and ways to prevent damage to (and from) Wii remotes, Wii For Dummies makes your new high-tech toy more fun than ever.
Introduction.
Part I: The Basics.
Chapter 1: How the Wii Came to Be.
Chapter 2: Getting to Know the Wii.
Chapter 3: Know Your Controllers.
Chapter 4: Getting the System Online.
Part II: The Channels.
Chapter 5: Wii Channel Basics.
Chapter 6: The Wii Shop Channel.
Chapter 7: Those Marvelous Miis.
Chapter 8: The Photo Channel.
Chapter 9: The Internet Channel.
Chapter 10: News, Weather, and More.
Part III: The Games.
Chapter 11: Picking Out Games.
Chapter 12: Wii Sports.
Chapter 13: Wii Fit.
Chapter 14: Recommended Wii Games.
Part IV: The Part of Tens.
Chapter 15: Ten Games to Download.
Chapter 16: Ten Types of Accessories.
Index.