WikiLeaks: News in the Networked Era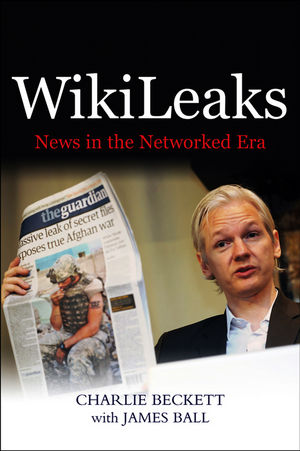 WikiLeaks: News in the Networked Era
ISBN: 978-0-745-66192-6 May 2013 Polity 196 Pages
Download Product Flyer
Download Product Flyer
Download Product Flyer is to download PDF in new tab. This is a dummy description. Download Product Flyer is to download PDF in new tab. This is a dummy description. Download Product Flyer is to download PDF in new tab. This is a dummy description. Download Product Flyer is to download PDF in new tab. This is a dummy description.
Description
WikiLeaks is the most challenging journalistic phenomenon to have emerged in the digital era. It has provoked anger and enthusiasm in equal measure, from across the political and journalistic spectrum.

WikiLeaks poses a series of questions to the status quo in politics, journalism and to the ways we understand political communication. It has compromised the foreign policy operations of the most powerful state in the world, broken stories comparable to great historic scoops like the Pentagon Papers, and caused the mighty international news organizations to collaborate with this tiny editorial outfit. Yet it may also be on the verge of extinction.

This is the first book to examine WikiLeaks fully and critically and its place in the contemporary news environment. The authors combine inside knowledge with the latest media research and analysis to argue that the significance of Wikileaks is that it is part of the shift in the nature of news to a network system that is contestable and unstable. Welcome to Wiki World and a new age of uncertainty.

Table of contents
Preface by Emily Bell vii
Introduction 1
1 What was new about WikiLeaks? 15
1.1 The creation of WikiLeaks 15
1.2 The challenge of WikiLeaks to alternative journalism 26
1.3 The challenge of WikiLeaks to mainstream media journalism 32
1.4 The challenge of WikiLeaks to power 40
2 The greatest story ever told? The Afghan war logs, Iraq war logs and the Embassy cables 46
2.1 Introduction 46
2.2 Collaboration and the Afghan war logs 48
2.3 The Iraq war logs: collaboration under stress 55
2.4 The cables and the legal attack 59
2.5 Rights, risks and responsibilities 67
2.6 The responsibility of journalism to avoid harm 69
2.7 Responsibility to tell the truth 72
2.8 Responsibility to hold power to account 75
2.9 Conclusion 83
3 WikiLeaks and the future of journalism 85
3.1 Introduction 85
3.2 WikiLeaks as part of the battle for the open Net 92
3.3 WikiLeaks as a model 114
3.4 Hacktavism redux 117
3.5 Advocacy NGO journalism 120
3.6 Foundation and public journalism 122
3.7 Mainstream whistle-blowers 127
4 Social media as disruptive journalism: media, politics and network effects 130
4.1 Transparency and the network 131
4.2 Social media as political communications: 'The Arab Spring' 135
4.3 WikiLeaks – what next? 141
4.4 Conclusion: WikiLeaks, networked journalism and power 147
Epilogue 160
Notes 165
Bibliography 182
Index 190
Reviews
"A well-written and interesting account of WikiLeaks' history"
Discourse and Communication
"An incisive overview of the Wikileaks saga and its implications."
The
Age


"An excellent systematic documentation on the history of WikiLeaks and the controversial role of the founder."
Digital Journalism
"Would be an excellent text to assign in courses on journalism. It comes highly recommended, since it is full of insight, is easy to navigate and makes compelling arguments."
Central European Journal of International and Security Studies
"A cool-headed, astute analysis of the social, political and technological context in which the now infamous website was formed."
Engineering and Technology
"This excellent study is a fascinating insight into WikiLeaks and is the first bookt o examine this new phenomenon of the age."
Orange Standard
"In this terrific book, Charlie Beckett with James Ball weave the disparate threads of Julian Assange and WikiLeaks - the future of journalism, of statecraft, of secrecy - into a readable and compelling narrative. Essential for anyone interested in the future of free speech or global politics."
Clay Shirky, New York University
"A fascinating insight into Wikileaks, and what its version of transparency means for the ethics, focus and newly emerging forms of journalism in our time. Beckett and Ball have produced a book that combines timeliness with significance in its examination of the implications of Wikileaks for journalism."
David A L Levy, University of Oxford
"Essential reading for anyone who wants to understand one of the biggest revolutions for journalism, whistleblowing and freedom of information."
Jo Glanville, Editor, Index on Censorship
Features
The first book to analyse WikiLeaks fully and critically
The authors provide the first account that not only tells the story of WikiLeaks but considers its implication for contemporary journalism
Written by authors who have both journalistic and academic experience, one of whom used to work with WikiLeaks
Includes a preface from former Guardian online editor Emily Bell